Järjestelmä tullaan ajamaan alas säännöllisen ylläpidon vuoksi. Tallenna työsi ja kirjaudu ulos.
Training professionals for the global marketplace: cross-evaluation report of the degree programme in international business
Janatuinen Tero (2010-09-24T08:29:33Z)
---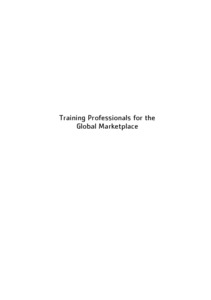 JAMK University of Applied Sciences
2010-09-24
This publication is copyrighted. You may download, display and print it for Your own personal use. Commercial use is prohibited.
Julkaisun pysyvä osoite on
http://urn.fi/URN:NBN:fi:jamk-1233217130-0
Tiivistelmä
An important element of the quality assurance system of Jyväskylä University
of Applied Sciences (JUA) is the cross-evaluation of degree programmes,
in which the expertise of the various fields of study is utilized to
develop education. For each cross-evaluation, a multidisciplinary evaluation
team is established. The evaluation team also produces a report on the
evaluation in question, to be published later. Thus, the cross-evaluation
is also an internal, collective learning method, in which good practices
and development ideas are shared and disseminated. The cross-evaluation
procedure, which started in 2004, had been implemented in more than
20 degree programmes of JUA by the beginning of the year 2008.
The present publication reports on the cross-evaluation of the Degree
Programme in International Business (IB), carried out between October
2007 and January 2008. The degree programme is conducted in English
and it is JUA's most international programme. About 30–50% of its yearly
40 new degree students come from outside Finland. Together with the
large number of exchange students coming to IB every year they form
a multicultural learning community and environment, which is both a
resource and a pedagogical challenge for the degree programme.
The Degree Programme in International Business has a distinctive
mission. Its focus has been adapted in the past years to meet the needs
of internationalization in the region's businesses and industry. IB has
defined its own niche markets in serving small and medium-sized companies.
It focuses especially on technology business companies operating
in international markets. Direct interaction between students and staff
creates a positive, informal atmosphere, promoting students' learning in jUA
a multicultural community. In the course of time, IB has established a wide international partner network, and now it aims at deepening this
collaboration. The programme also has close contacts with working life,
and its students take part in several joint projects with regional companies.
The staff members of IB are aware of their strengths and committed
to developing the programme and their own work.
Evaluating the interrelation between students' professional growth
and practical problem-solving in companies is necessary in IB. There
could be more joint discussion on pedagogical principles, learning and
the professional growth process. At the same time, it is good to analyse
students' needs for guidance in relation to the development of their selfdirectedness
and the implementation of project studies. The degree programme
has set wide-ranging and ambitious goals, but its challenge is
how to develop the operational process further and increase cooperation
within the unit as well as with other actors at Jyväskylä University of
Applied Sciences. The regional and international partner networks could
also be more systematically exploited.
The cross-evaluation highlights a challenge for JUA as a whole: the
availability of services and information for students and staff also in
English. The relation between the support services offered in the units
and JUA's common support services must be clearly defined.
Kokoelmat