EN FRAMTID BYGGD AV BROAR : Marknadsundersökning bland inkvarteringsföretagen i 7 Broars Skärgård
Vikström, Ida (2010)
---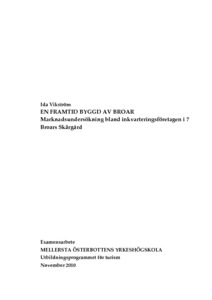 Keski-Pohjanmaan ammattikorkeakoulu
2010
All rights reserved
Julkaisun pysyvä osoite on
http://urn.fi/URN:NBN:fi:amk-2010111014351
Tiivistelmä
Syftet med detta examensarbete var att undersöka inkvarteringsföretagen som är deltagare i 7 Broars Skärgård. Undersökningen skulle främst ta reda på belåtenheten bland deltagarna, deras marknadsföring och vad de vore villiga att göra i framtiden. Examensarbetet gjordes som en kvantitativ undersökning, närmare bestämt en informerad förfrågan, och med hjälp av ett frågeformulär samlades information om deltagarna in. Förutom undersökningen behandlades teorin till en kvantitativ undersökning, olika verksamhetsområden inom turismen, 7 Broars Skärgård och dess verksamhet och marknadsföring och distribution.
7 Broars Skärgård startade som ett EU-projekt och är idag en marknadsförande organisation belägen på Finlands västkust. 7 Broars Skärgårds verksamhetsidé är att befrämja produkter inom turismen som tangerar upplevelser, evenemang, sevärdheter, inkvartering och restaurang/caféer
Målet med examensarbetet var att få tillförlitliga resultat som senare kunde tillämpas i praktiken. Utgående från den kvantitativa undersökningen erhölls resultat som förhoppningsvis ska gynna 7 Broars Skärgård som verksamhet, men också hjälpa mig själv att få en inblick i hur den här delen av turismen fungerar i Finland och i Österbotten. Resultaten av mitt arbete visade att turismen i Österbotten inte har några direkta brister. Resultaten visade också att majoriteten av respondenterna är så nöjda med 7 Broars Skärgård att de vill fortsätta deltagandet i organisationen
The purpose of this thesis was to examine the accommodation companies that are participants in the 7 Bridges Archipelago. The research is first of all showing the satisfaction among the participants, their marketing and what they are willing to do in the future. A quantitative method of research was used, to be precise an in-quiry, and with help of a questionnaire information was collected about the participants. Besides the research, the theory of a quantitative method of research is presented, as well as different areas of operation in tourism, 7 Bridges Archipelago and its activities and marketing and distribution.
7 Bridges Archipelago started as an EU-project and is today an organization with-in marketing located on Finland´s west coast. The 7 Bridges Archipelagos business idea is to promote tourism products, which touches adventures, sights, accommodation and restaurants/café´s.
The goal with this research was to get reliable results that later could be put into practice. Based upon the quantitative research, results were found, that hopefully will help the 7 Bridges Archipelago as a business, but also help other to get an insight in how this area of tourism works in Finland and in Ostrobothnia. The re-sults from the research showed that the tourism in Ostrobothnia doesn´t have any direct lacks. The results also showed that the majority of the respondents are that satisfied with 7 Bridges Archipelago, they want to continue participating in the organisation.
Kokoelmat