Kartläggning över aktiviteter och svårigheter i hemmiljön hos personer med fysiska funktionsnedsättningar : - en bas för ny tjänsteutveckling
Helminen, Frida (2010)
---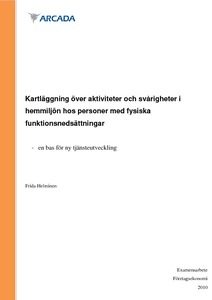 Arcada - Nylands svenska yrkeshögskola
2010
All rights reserved
Julkaisun pysyvä osoite on
http://urn.fi/URN:NBN:fi:amk-2010112415346
Tiivistelmä
Detta examensarbete har gjorts i samarbete med projektet Bo Bra Framtidens kök för rörelsehämmade, som är ett projekt inom ergoterapilinjen i Arcada. Problemställningen i detta arbete var att komma på hurudana tjänster man skulle kunna utveckla, som gör personer med en funktionsnedsättning likvärdiga utan att de känner sig särbehandlade. Syftet med detta arbete var att göra en kartläggning över de aktiviteter och svårigheter personer med fysiska funktionsnedsättningar har i hemmiljön. I examensarbetet undersöktes vilka behov det finns hos målgruppen, samt vilka behov det finns som ännu inte har bemötts. Arbetet avgränsades till att endast undersöka behoven hos två grupper av personer med fysiska funktionsnedsättningar, CP-skada och ryggmärgsskada. Teorin som jag studerade och tar upp i arbetet behandlar funktionsnedsättningar, behov samt tjänsteutveckling. I arbetet använde jag mig av en kvalitativ forskningsmetod. Tillvägagångssättet i undersökningen var semistrukturerade intervjuer med fyra respondenter med CP-skada och tre respondenter med ryggmärgsskada. Jag intervjuade respondenterna med frågor gällande behov och aktiviteter, samt hur de utför de olika vardagliga aktiviteterna och vid vilka aktiviteter det uppkommer svårigheter. Fokus låg på de aktiviteter som sker i hemmet. Resultatet är en kartläggning över olika vardagliga aktiviteter som respondenterna utför i hemmet, vid vilka aktiviteter de har svårigheter vid utförandet samt hur de löser svårigheten. Det resultat som undersökningen gav kan fungera som bas för IT- och media experter vid utformningen av ett nytt tjänstesystem som skulle underlätta invånarnas behov i hushållet.
This degree thesis has been made in cooperation with a project in Arcada, called Bo Bra Framtidens kök för rörelsehämmade, which is a project within the degree program of Occupational therapy. The problem in this degree thesis was to find out what kind of services that could be developed to make people with a functional disability equivalent, without having the feeling of being specially treated. The aim of the study was to make a chart of those activities and difficulties people with physical functional disabilities have at home. In the degree thesis the purpose was to study what kind of needs people with different functional disabilities have, as well as what kind of needs they have that haven´t been met.
The project was demarcated to only examine the needs of two groups of persons with physical functional disabilities, Cerebral Pares and spinal damages. Before I started the project I studied theory about functional disabilities, needs and service development. In the project I used a qualitative research method. The mode of procedure in the research was semi-structured interviews, which I made with four people who had Cerebral Pares and three who had spinal damages. I interviewed them with questions about needs and activities, and how they perform these everyday activities and within which activities they face difficulties. The focus was on activities that happen in their home. The result obtained, is a chart of different everyday-activities that the respondents do in their home, within which activities they face problems and how they solve the problems. The result I got from the research could be used as a base for IT and media experts to develop a new service system that could facilitate the needs of the inhabitants in their home.
Kokoelmat