Anpassning av kreditupplysningar för factoringbolag
Westerlund, Casper (2010)
---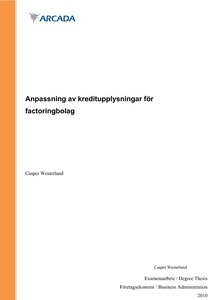 Arcada - Nylands svenska yrkeshögskola
2010
All rights reserved
Julkaisun pysyvä osoite on
http://urn.fi/URN:NBN:fi:amk-2010112415395
Tiivistelmä
Riskhantering är en viktig del i företagens verksamhet idag. En viktig del av riskhantering är att företagen har kännedom om företagen de gör samarbete med. Genom att känna till sina samarbetspartner minskar risken för kreditförluster. Kreditupplysningar är ett sätt för ett företag att få information om andra företags ekonomiska situation och bakgrund. I en kreditupplysning analyseras företagen från flera olika synpunkter och deras summa ger ett ratingtal som skall beskriva ett företags nuvarande situation. I studien granskas två företag som ger ut kreditupplysningar, de är Dun & Bradstreet och Suomen Asiakastieto. Factoringbolag är företag som finansierar andra företags kundfordringar för att deras kunder skall kunna få ett jämnare kassaflöde och förbättra deras likviditet. Factoringbolag använder sig av kreditupplysningar för att få information om sina kunder och kundernas kunder. Informationen om företagen i kreditupplysningarna möter inte alltid factoringbolagens behov. Arbetets mål är att anpassa sättet enligt vilket kreditupplysningarna byggs upp så att det tjänar factoringbolagens behov. I undersökningen granskas brister och förbättringsmöjligheter i Dun & Bradstreets rating modell från ett factoringbolags synvinkel. Undersökningen görs genom att intervjua två personer som arbetar inom factoring. Intervjuerna skall ge idéer om vilka faktorer bör ändras eller tillsättas i en nuvarande rating modell för att factoringbolagen skall ha mer nytta av kreditupplysningarna.
Risk management is an important part of corporate business today. A crucial part of risk management is that companies are aware of the companies they collaborate with. By knowing their partner they decrease the risk of credit losses. Credit record is a way for a company to get information about other companies´ financial situation and background. Credit record analyzes companies from several different views and their sum
gives a rating which is to describe a company´s current situation. The study examined two companies that issue credit records, they are Dun & Bradstreet and Suomen Asiakastieto.
Factoring companies are firms that finance other companies´ accounts receivable. A factoring company´s aim is to give their customers a more even cash flow and improve their liquidity. Factoring companies use credit records to obtain information about their customers and customers' customers. Information on companies in credit records do not always satisfy a factoring company´s needs. The aim of this study is to adapt the way credit records are built up so that they serve a factoring company´s need. The study examined gaps and improvement opportunities in the Dun & Bradstreet rating
model from a factoring company´s point of view. The study is conducted by interviewing two people who work in a factoring company. The interviews will give ideas on what variables should be modified or added to an existing rating model, so that factoring companies would have more benefit from the credit records.
Kokoelmat