The role of visual elements in delivering a message: Case study: sustainable development exercise book, Liike
Olkhovich, Anastasia (2019)
---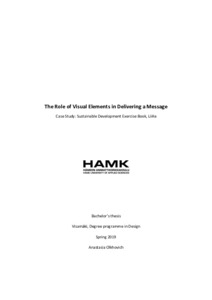 2019
All rights reserved. This publication is copyrighted. You may download, display and print it for Your own personal use. Commercial use is prohibited.
Julkaisun pysyvä osoite on
http://urn.fi/URN:NBN:fi:amk-2019061517038
Tiivistelmä
This thesis examines the role of visual elements in delivering a message in print media in a case study. The aim is to produce a booklet layout. The client's NGO Liike booklet is a practical guide for physical education students to introduce sustainable development to children by means of sports. The aim of the work is to identify the role visual elements play in delivering a message in the case study, as well as deciding which tools/elements would promote it best.
The work has two goals, practical and theoretical. The practical goal is the actual product, the layout that would satisfy the client by addressing their needs. Since the product is an educational booklet or guide, it is crucial to first analyze the target group in order to create a design meeting their needs. The theoretical goal is to recognize the role of visual elements in delivering a message in the case study, identify the relationship between visual elements and text, and find the tools and elements that should be used in the booklet to promote a visually balanced layout.
The structure of this thesis follows the design process, starting with the brief held in the beginning of the project, where the timetables were set, the customer's goal discussed, and target group defined. After that the process of building the layout is discussed, its theory and practical aspects – including its structure, elements used (such as images and typography), as well as the anatomy of page and theory of message design.
As an outcome there is a 64-pages booklet with a balanced layout and a theoretical research answering the question asked in the beginning about the role of visual elements and their efficient use in the end product.
Opinnäytetyön aiheena on LiiKe ry:n Kestävän Kehityksen Liikuntakirjan taiton suunnittelu. Työn pääkysymys on visualisten elementtien rooli viestin perille saamisessa painomediassa tapaustutkimuksessa ja se, mitkä elementit edistävät sitä parhaiten. Kestävän Kehityksen Liikuntakirja on käytännöllinen ohje liikunta-alan opiskelijoille siitä, kuinka kestävä kehitys voi opettaa lapsille urheilun kautta.
Työllä on kaksi päämäärää, toinen käytännöllinen ja toinen teoreettinen. Käytännöllinen päämäärä on taitto, joka vastaa asiakkaan ja kohderyhmän tarpeisiin. Teoreettinen päämäärä on visuaalisten elementtien ja niiden rooli viestinnässä tässä tapaustutkimuksessa osoittaminen, sekä oikeiden elementtien ja niiden muotonsa tähän taittoon löytäminen.
Työn rakenne seuraa projektin prosessia, se alkaa tapaamisesta työryhmän ja asiakkaan kanssa, jossa määriteltiin aikataulut, asiakkaan toiveet ja kohderyhmä. Sen jälkeen käydään läpi luovan prosessin käytännöllisiä ja teoreettisia aspekteja ja perustellaan tehtyjä ratkaisuja (muun muassa kuvat ja typografia).
Työn lopputuloksena on 64 sivua sisältävä valmis taitto ja teoreettinen tutkimus, joka vastaa kysymykseen visuaalisten elementtien roolista tämän kirjan viestinnässä.
Kokoelmat