Resource allocation benefits : developing project portfolio management process
Korpi-Tassi, Elina (2019)
---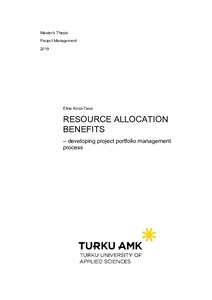 2019
All rights reserved. This publication is copyrighted. You may download, display and print it for Your own personal use. Commercial use is prohibited.
Julkaisun pysyvä osoite on
http://urn.fi/URN:NBN:fi:amk-2019062717577
Tiivistelmä
The objective of this study is to identify development areas and propose improvements to the current project portfolio management process in the case company, which is a technology company in the machining industry.
This study examines in particular the resource allocation benefits in project portfolio management. The study is motivated by the case company's strategy and vision that drives the continuous development and excellence in processes.
The theoretical part of the study covers characteristics of the project portfolio management, its development phases and RAP-model that describes resource allocation process. The research data of the empirical part is collected from the internal documentation and the research interviews conducted in the case organization. The research methods consist of direct observation, documentation analysis and research interviews.
The key result in this study is that driving strategy with the means of project portfolio management requires suitable projects to be identified, selected and prioritized. Additionally, proper resource allocation is a prerequisite for functioning project portfolio management.
The findings in this case study are that resource allocation could benefit the project portfolio management by improving productivity, strategic planning, risk management, workload management and project team commitment. An action plan has been as the first step in the process of developing the project portfolio management at the case company. However, in order to integrate resource allocation in the project portfolio management process and capitalize the benefits also further development work is required in the case organization.
Tämän opinnäytetyön tavoitteena on tunnistaa kehittämiskohteita toimeksiantajayrityksen projektisalkkujohtamisen prosessissa ja esittää parannusehdotuksia niihin liittyen. Opinnäytetyön toimeksiantajana on konepajateollisuuden alalla toimiva teknologiayritys.
Opinnäytetyössä käsitellään erityisesti resursoinnin etuja projektisalkun johtamisessa. Innostus tutkimuksen tekemiseen tuli yrityksen strategiasta ja visiosta, joissa jatkuva kehittäminen ja toiminnan sujuvuus ovat selkeästi esillä.
Opinnäytetyön teoriaosuudessa käsitellään projektisalkkujohtamisen ominaispiirteitä, sen kehittämisen vaiheita sekä resursointiprosessia kuvaavaa RAP-mallia. Työn empiirisen osan tutkimusaineisto on kerätty kohdeorganisaation sisäisistä dokumenteista sekä tutkimushaastatteluista. Tutkimusmenetelminä ovat havainnointi, dokumentaatioanalyysi ja tutkimushaastattelut.
Työn keskeisimpänä tuloksena on, että strategian toteuttaminen projektisalkkujohtamisella edellyttää tarkoituksenmukaisten projektien tunnistamista, valintaa ja priorisointia. Lisäksi projektien asianmukainen resursointi on toimivan salkkujohtamisen perusedellytys.
Työn johtopäätöksenä on, että projektijohtaminen voi hyötyä resursoinnista tuottavuuden, strategisen suunnittelun, riskienhallinnan, työkuormanhallinnan ja projektiryhmän sitoutuneisuuden parantuessa. Toimeksiantajayrityksessä projektisalkun johtamisen prosessin kehittäminen on aloitettu toimintasuunnitelman laatimisesta. Resursoinnin sisällyttäminen projektisalkkujohtamisen prosessiin ja siitä saavutettavien etujen hyödyntäminen kohdeorganisaatiossa vaatii kuitenkin myös kehitystyön jatkamista.
Kokoelmat