Grundande av två nya lager åt Sydbevakning Ab
Lostedt, Bo; Träskelin, Toni (2010)
---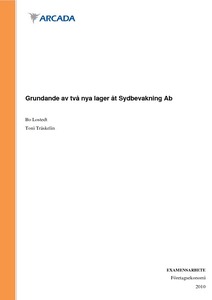 Lostedt, Bo
Träskelin, Toni
Arcada - Nylands svenska yrkeshögskola
2010
All rights reserved
Julkaisun pysyvä osoite on
https://urn.fi/URN:NBN:fi:amk-2010121518251
Tiivistelmä
Sydbevakning Ab är ett företag som säljer säkerhetstjänster på Västra Nylands område. Företaget har nyligen grundat ett nytt dotterbolag, som heter Paradox Security Finland. Dotterbolaget grundades på grund av att Sydbevakning Ab gjorde ett omfattande kontrakt med Paradox Security Systems från Kanada, som tillverkar inbrottsalarmanordningar. Kontraktet innehöll en klausul som förutsätter att fabrikörens produkter måste säljas och marknadsföras under namnet Paradox Security.
I praktiken krävde det nyetablerade företaget stora insatser och förnyelse i de befintliga procedurerna för att löpa smidigt. Vårt uppdrag var att grunda två nya lager för företagen i fråga. Arbetet innefattade både planeringsskedet samt det praktiska byggandet av lagren. ABC och EOQ-analys utfördes dessutom för att hjälpa företaget att i framtiden ha en överskådlig anblick över vilka produkter som är kostnadsbärare för dess verksamhet, samt för att optimera inköpen. Företagen har ett gemensamt ERP-system som krävde uppdatering i form av nya implementeringar; detta för att pålitligt stödja verksamheten även i fortsättningen.
Arbetsprocessen var mycket arbetsdryg på grund av att det inte fanns historisk data från en längre period att förlita sig på. Eftersom företaget är nyetablerat försvårade detta också i sin tur vårt arbete. Pålitlig data från tidigare resultatperioder saknades och detta främjade inte heller vår strävan efter pålitlig och meningsfull statistisk rapportering.
Sydbevakning Ab, which is a company that sells security services in the Western Uusimaa region, has recently founded a sister company called Paradox Security Finland. This particular company was founded because Sydbevakning Ab recently made a substantial contract with Paradox Security Systems from Canada, which is a manufacturer of burglar alarms and related equipment. The contract included a clause which demands that the producer's equipment must be sold and marketed under the name Paradox Security.
In practice this meant that the newly established company had to make large investments and renew operations so that the new procedures would operate smoothly. Our assignment was to establish two new warehouses for the companies in question. The project included both a planning stage as well as an operational one where the warehouse was physically constructed. ABC and EOQ-analyses were also made, so that the company in the future might have an easier time with keeping an eye on which products carry the biggest costs, and also to aid in optimizing purchase decisions. The companies share a common ERP-system, which required some updating in order to reliably support business activities even in the future.
The process by which we worked on the assignment resulted in a heavy workload, mainly because of the fact that the company was newly established and lacked historical data to support our work. Reliable data from previous quarters was
Kokoelmat