God handledning : En teoretisk studie om hur handledning av vårdstuderande kunde vara
Norrgård, Jessica; Skott, Petra (2010)
---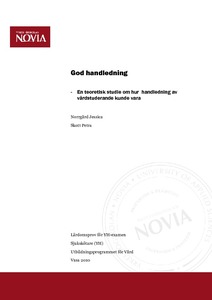 Norrgård, Jessica
Skott, Petra
Yrkeshögskolan Novia
2010
All rights reserved
Julkaisun pysyvä osoite on
https://urn.fi/URN:NBN:fi:amk-2010121318008
Tiivistelmä
Syftet med studien är att klargöra hur en god handledning kan se ut. Vi vill lyfta fram vad god handledning är och vilka delar som bidrar till att hand-ledningen blir god. Vår forskningsfråga lyder: Vad kännetecknar en god handledning? Den teoretiska utgångspunkten består av Benners och Ekeberghs tankar om reflektion. Datainsamlingsmetoden är dokument-studier. Vi skall göra en sammanfattning av tidigare forskning bestående av 30 vetenskapliga forskningar. Som dataanalysmetod har vi valt översiktsartikeln resumé för att få en snabb översikt av forskningarna. Innehållsanalys användes för att analysera resultatet.
Frågorna som ställdes till forskningsresultatet var: Vilka faktorer har betydelse för att handledningen ska bli god? Vad kännetecknar reflektionen i handledningen? Resultatet beskrivs utgående från de frågor som ställdes till tidigare forskning. De faktorer som inverkar på handledningen är hand-ledarens egenskaper, handledningsmetod, handledningens yttre ramar, diskussion, integration teori–praktik samt handledningsteknik. Hand-ledarens relationella och personliga egenskaper är av betydelse för hur handledningen blir. Kommunikationen mellan handledare och studerande är viktig. Att ha klara målsättningar och ett handledningsschema är avgörande för studerandes praktik, även att skapa en trygg atmosfär. Genom att integrera teori med praktik främjas studerandes professionella utveckling och känslan av att känna sig kompetent. Som en handledningsteknik kan kritiskt tänkande vara en möjlighet samt att handledare ger kontinuerlig utvärdering åt studerande. Grupphandledning ansågs även som positivt.
The purpose of this study is to explain what good supervision of nursing students on practical training could be like. We want to highlight what good supervision is and what parts of it make it good supervision. The question that we want an answer to is: What distinguishes good supervision? The theoretical starting points are Benner's and Ekebergh's thoughts about reflection. The data was collected through document studies. We have made a summary of earlier research consisting of 30 scientific researches. As method of analysis we chose review articles in order to quickly get an overview of the research. The analysis of data has been done with the help of content analysis.
The questions were: What factors are important for the supervision to be good? What characterizes reflection in supervision? Factors that affect supervision are the supervisor's characteristics, method of supervision, outer frames of supervision, discussion, integration theory-practice and supervision technique. The supervisor's relational and personal characteristics have a great importance for how the supervision is going to be. The communication between the supervisor and the student is important. Having clear goals and a supervision schedule is conclusive for students' practice, also in order to create a safe atmosphere. Integrating theory with practice promotes the student's professional development and the feeling of being competent. As a supervision technique, critical thinking could be a possibility, as well as supervisors giving continuous feedback to students. Group supervision was also considered as positive.
Kokoelmat