Behovskartläggning och flödesanalys för utveckling av specialiserat ERP-system – Praktikfall Avecra
Mattsson, Stefan (2010)
---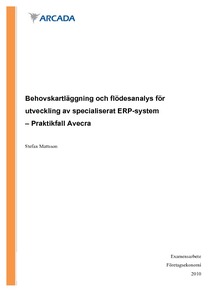 Arcada - Nylands svenska yrkeshögskola
2010
All rights reserved
Julkaisun pysyvä osoite on
http://urn.fi/URN:NBN:fi:amk-2010121718585
Tiivistelmä
Detta arbete behandlar optimering av logistiska flöden med hjälp av dataprogram. Arbetet har som mål att utreda vikten av ett väl fungerande ERP-system i fallföretaget Avecra Ab. Företaget är en aktör inom restaurangbranchen och ansvarar bl.a. för serveringen på VR Ab:s tåg. Arbetet begränsas till att endast gälla de grundläggande, dagliga flödena av varor och information mellan restaurangvagnarna och lagret. Arbetet utreder vilka områden som bör tas i beaktande vid val samt planering av ett i detta fall specialiserat system. Vikten ligger på de funktioner som underlättar samt effektiverar det logistiska flödet av försäljningsvaror från lager till försäljningspunkt. Problematiken som utreds är hur företaget kan undgå dubbla eller rutinmässiga processer.
Det empiriska materialet är framtaget genom en kvalitativ fallundersökning till vilken materialet samlades in via deltagande observationer samt intervjuer med lagerpersonal på olika nivåer i företaget. Det empiriska materialet stärks av den teoretiska delen, till vilken relevant material främst är taget via nya publikationer på nätet samt i bokform. Teoridelen behandlar olika delar av det logistiska flödet. Resultatet av undersökningen presenteras som en kravspecifikation, dvs. en lista på punkter som anses vara viktiga för ett väl fungerande program. Denna undersökning kan komma att användas av fallföretaget som hjälpmedel vid planering av nya IKT-system, men ger även åt övriga intresserade grundläggande information om området i fråga.
This thesis discusses the optimization of logistical flows utilizing computer programs. The work aims to investigate the importance of an effective ERP system in the case company Avecra Ltd. The company is in the restaurant business and is, among other things, responsible for catering onboard the VR Ltd´s trains. The thesis is limited solely to the basic, daily flows of goods and information between the restaurant wagon and the warehouse. The work is looking at areas that should be considered when selecting and planning of one in this case, specialized system. The importance lies in the functions that facilitate and enhances the logistical flow of goods from the warehouse to the sales point. The problem under investigation is how the company can avoid double or routine processes.
The empirical data is developed through a qualitative case study to which the material was collected through participant observation and interviews with warehouse staff at various levels in the organization. The empirical material is supported by the theoretical part, to which relevant material is primarily taken from publications on the Internet and from books. The theoretical part deals with various aspects of the logistical flow. The results of the investigations made are presented as a requirements specification, i.e. a list of items which are considered important for a well functioning program. This study may be used by the case company as an aid when planning new ICT-systems, but it may also provide others interested in the subject with basic information about the area in question.
Kokoelmat