Helsingfors stads uteidrottsplatser : Kundundersökning vinter 2010
Gerkman, Mats; Häkli, Sonja (2010)
---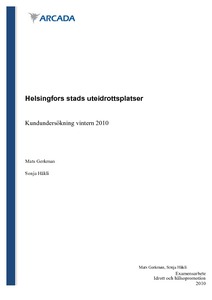 Gerkman, Mats
Häkli, Sonja
Arcada - Nylands svenska yrkeshögskola
2010
All rights reserved
Julkaisun pysyvä osoite on
http://urn.fi/URN:NBN:fi:amk-2010122218873
Tiivistelmä
Det här är ett beställningsarbete av Helsingfors Idrottsverk, avdelningen för utomhusidrott. Arbetets syfte är att utföra en kundundersökning åt Helsingfors Idrottsverk som mäter besökarnas åsikter om uteidrottsplatserna som upprätthålls av Helsingfors Stad. Idrottsplatserna består av naturisbanor (Stapelstaden, Drumsö, Nordsjö, Gamlas), konstisbanor (Berghäll, Kottby), skidspåren i Svedängen och Bredvikens långfärdsisba-na. Sammanlagt 1258 svar. Datainsamlingsmetoder är enkätundersökning och intervju, vilken är en kombination av kvalitativa och kvantitativa forskningsmetoder. Syftet är att presentera resultat från Helsingfors Stads uteidrottsplatser och få reda på motionsvanor mellan kön och åldersgrupper. Resultaten av uteidrottsplatserna är i medeltal goda, besökarna är nöjda med underhållet och utbudet. Det finns skillnader i styrkor och svagheter mellan uteidrottsplatserna, därför behövs olika förbättringar på olika uteidrottsplatser. Undersökningsresultaten ger inga skillnader i motionsvanor mellan könen. Majoriteten av besökarna har en universitets/yrkeshögskoleutbildning men det finns inga skill-nader i motionsvanor mellan utbildningsnivåer. Åldersgrupperna som intresserade oss var 26 – 40-åringar samt 41 – 60-åringar. Båda åldersgrupperna är de aktivaste mo-tionsutövare bland besökarna.
This is a commissioned work from Helsinki Sports Department, the Outdoor Sports Facilities
Division. The work aims to conduct a customer survey to Helsinki Sports Department,
which measures the visitors' views on outdoor sports facilities maintained by
the Helsinki City. The sports facilities that the survey includes natural skating rinks (Tapuli,
Lauttasaari, Vuosaari, Kannelmäki), artificial skating rinks (Kallio, Käpylä), skiing
tracks in Paloheinä and tour skating course in Laajalahti. Combined 1258 answers. Data
collection methods are questionnaire and interview, which is a combination of qualitative
and quantitative research methods. The aim is to present the results from the outdoor
sports facilities and find out about the exercise habits between genders and age groups.
The results from the outdoor sport facilities are on average good, the visitors are satisfied
with the maintenance and supply. There are differences in the strengths and weaknesses
between outdoor sport facilities, hence the need for various improvements at various outdoor
sport facilities. The findings provide no differences in exercise habits between the
genders. The majority of the visitors have a university / polytechnic education, but there
are no differences in exercise habits between educational levels. The age groups that interested
us were 26 - 40 - year olds and 41-60 - year olds. Both age groups are the most
active sports practitioners of all visitors.
Kokoelmat