Ekologiska fotavtrycket av Unifeeder Finland
Malm, Thomas (2010)
---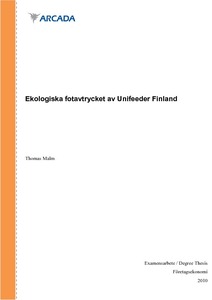 Arcada - Nylands svenska yrkeshögskola
2010
Creative Commons Attribution 3.0 Unported
Julkaisun pysyvä osoite on
https://urn.fi/URN:NBN:fi:amk-2010122118854
Tiivistelmä
Idag är miljö frågor mycket aktuella. De behandlas intensivt i media, vilket dramatiskt har ökat människors miljömedvetenhet. Miljötänkande har så ledes på de senaste tio åren stigit till en betydande konkurrensfaktor för flera företag. För att effektivt minska den negativa inverkan ett företag har på miljön är det bra att först kartlägga var felen finns. I det här arbetet har Unifeeder Finlands kontors ekologiska fotavtryck räknats ut.
Ett företags ekologiska fotavtryck berättar hur mycket ett företag belastar miljön vid drivsel av sin verksamhet. Det här arbetet använde The Green Office och Ilmastolaskuri för att räkna ut fotavtrycket. De är program som räknar ut ekologiska fotavtryck på ba-sen av värden man matar in gällande olika faktorer som anses ha en miljöinverkan. Ilamstolaskuri och The Green Office gav mycket varierande svar.
The Green Office räknade ut att Unifeeder Finlands kontor har årliga koldioxidutsläpp på 48,89 ton. Årliga koldioxidutsläppen enligt Ilmastolaskuri var endast 27,58 ton. Om alla människor skulle konsumera lika som kontoret av Unifeeder Finland skulle det en-ligt The Green Office krävas 0,9 jordklot, samma tal med Ilmastolaskuri var 0,5. Största delen av koldioxidutsläppen uppkom av arbetsresor till och från kontoret.
För att minska sin belastning på miljön rekommenderades att Unifeeder Finland gör upp en klar miljöpolicy som skulle vägleda kontoret mot ett mindre ekologiskt fotavtryck. Dessutom rekommenderades utdelning av en kollektivtransport förmån åt anställda samt regelbunden uppföljning av ekologiska fotavtrycket.
Today environmental issues are a hot topic. They are intensely covered by the media, which has increased people's environmental consciousness. During the last ten years this has made environmental thinking a competitive factor for many companies. In order to effectively decrease the impact a company has on the environment it first needs to ana-lyze itself. In this thesis a study of Unifeeder Finland's ecological footprint is conducted.
The ecological footprint of a company shows the impact that company has on the envi-ronment. This thesis uses The Green Office and Ilmastolaskuri in order to calculate the footprint of Unifeeder Finland's office. The Green Office and Ilmastolaskuri are software that measure ecological footprints on the basis of given data which can be seen as having an environmental impact. The Green Office and Ilmastolaskuri gave different answers.
The Green Office calculated that Unfeeders annual carbon dioxide outlet was 48,89 met-ric tons. Ilmastolaskuri calculated the annual outlet as 27,58 metric tons. Under the as-sumption that all humans would consume at the same rate as Unifeeder Finland, The Green Office calculated that it would require 0,9 globes (earth). The same figure for Il-mastolaskuri was 0,5 globes. The largest single cause of carbon dioxide outlet was the employees travelling from home to the office and back. The large difference in the results of the two calculators was assumed to be due to different base values and methods used by them.
In order for Unifeeder to reduce its impact on the environment it was recommended that they create an environmental policy to help guide them towards a smaller ecological footprint. It was also recommended that Unifeeder Finland offer public transport benefits to employees in order to discourage use of personal transportation. Unifeeder Finland was also encouraged to regularly renew a study of their ecological footprint.
Kokoelmat