VSAT Satellitbredband
Blomqvist, Staffan (2010)
---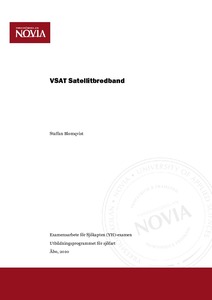 Yrkeshögskolan Novia
2010
All rights reserved
Julkaisun pysyvä osoite on
http://urn.fi/URN:NBN:fi:amk-201101121233
Tiivistelmä
EXAMENSARBETE
Författare: Staffan Blomqvist
Utbildningsprogram och ort: Utbildningsprogrammet för sjöfart, Åbo
Inriktningsalternativ/Fördjupning: Sjökapten YH
Handledare: Robert Stolpe
Titel: VSAT Satellitbredband
____________________________________________________________
Datum 12.11.2010 Sidantal 41 Bilagor 1
____________________________________________________________
Sammanfattning
Målsättningen med detta examensarbete är att fördjupa mig hur satellitbredband fungerar med fokus på VSAT tekniken. I examensarbetet presenteras hur tekniken fungerar, vilken utrustning som behövs ombord, täcknings områden,
regler inom VSAT, ekonomiska aspekter och framtidsutsikter.
Antalet fartyg som utrustats med satellitbredband har ökat under 2000-talet.
Utrustningen har blivit billigare att installera och rederierna har börjat prioritera fördelarna som bredband medför. Personalens trivsel är den största drivkraften
bakom ökningen men även de fördelar som rederiet får genom satellitbredband har börjat få betydelse. Genom satellitbredband är fartyget ständigt i kontakt med
omvärlden. E-post kan sändas oavsett fartygets geografiska position och samtal kan ringas med hjälp av IP-teknik.
Examensarbetet genomfördes genom litteraturundersökning, genom att läsa böcker, sjöfartstidskrifter, tekniska manualer och andra tekniska tidskrifter.
Internet var källan för den aktuella informationen. VSAT satellitbredband fungerar globalt förutom vid polerna. Till nackdelarna hör höga investeringskostnader men investeringen medför en obegränsad användning av tal och datatjänster.
____________________________________________________________
Språk: Svenska Nyckelord: VSAT, bredband, telekommunikation
____________________________________________________________
Förvaras: Examensarbetet finns tillgängligt antingen i webbiblioteket Theseus.fi
eller i Novias bibliotek.
BACHELOR'S THESIS
Author: Staffan Blomqvist
Degree Programme: Degree Programme in Maritime Studies, Turku
Specialization: Bachelor of Marine Technology
Supervisor: Robert Stolpe
Title: VSAT Satellite broadband
____________________________________________________________
Date 12.10.2010 Number of pages 41 Appendices 1
____________________________________________________________
Summary
The goal of my Bachelor's Thesis is to find out how satellite broadband works, focusing on the VSAT technology. In my Bachelor's Thesis I will present how the technology functions, what kind of equipment is needed on board, coverage
areas, rules concerning VSAT, economic aspects and future possibilities.
The number of ships equipped with satellite broadband has increased during the 21st century. The equipment has become cheaper to install and the shipping companies have started to prioritize the advantages that the broadband involves.
The comfort of the staff is the biggest motive behind this increase, but also the advantages that the satellite broadband gives the shipping companies, affect. By
using satellite broadband, the ships are always in contact with the surrounding world. E-mails can be sent and phone calls can be made by IP technology, irrespective of the ships' geographic position.
This Bachelor's Thesis was carried out with literature studies, by reading books, shipping magazines, technical manuals and other technical journals. Internet was
the source for the most current information. VSAT satellite broadband can be used globally, apart from by the poles. A disadvantage is high investment costs, but unlimited use of voice and data services is gained.
_____________________________________________________________
Language: Swedish Key words: VSAT, broadband, telecommunication
_____________________________________________________________
Filed at: The examination work is available either at the electronic library
Theseus.fi or in the Novia library
Kokoelmat