Österbottens handelskammare - företagens röst utåt : verksamhetsundersökning
Östman, Nina (2010)
---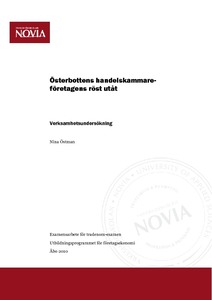 Yrkeshögskolan Novia
2010
All rights reserved
Julkaisun pysyvä osoite on
http://urn.fi/URN:NBN:fi:amk-201101121274
Tiivistelmä
Som uppdragsgivare för mitt examensarbete har fungerat Österbottens handelskammare. Handelskammaren arbetar för att regionens företag skall få så bra förutsättningar som möjligt att driva sina verksamheter.
Syftet med mitt arbete är att se hurudan bild både handelskammarens medlemmar och icke-medlemmar har av verksamheten och dess arbete. Dessutom tar jag fasta på några av handelskammarens tjänster för att undersöka hurudana behov det finns för dessa. Därtill undersöker jag deras externa kommunikation för att se hur effektiv den är bland medlemmarna och icke-medlemmarna.
Som undersökningsmetod använder jag mig av enkäter som skickas elektroniskt ut till företag inom Österbottens handelskammares verksamhetsområde. Sammanlagt deltog 355 företag i undersökningen, varav 262 var medlemmar och 92 var ickemedlemmar.
Medlemmarna är nöjda med handelskammarens arbete och anser att medlemskapet gynnar deras verksamheter. Bland icke-medlemmarna är man inte lika övertygad eftersom man inte riktigt har någon uppfattning om handelskammarens verksamhet.
Handelskammaren har dock mångsidiga kommunikationskanaler för att hålla medlemmarna uppdaterade om vad som sker i verksamheten och övriga aktuella nyheter. Men för att verkligen nå ut till alla intresserade finns det önskemål för utveckling av kanalerna.
Ostrobothnia Chamber of Commerce is the principal of my thesis. The mission of the Chamber of Commerce is to create as good conditions as possible for companies in the Ostrobothnia region to operate in.
The purpose of my thesis is to survey the image that the members and the non-members have of the operations and functions of the Ostrobothnia Chamber of Commerce. I have also chosen some of the Chamber of Commerce services in order to study what kind of need there is for them. In addition, I will also study their external communication, in order to see how effective it is among the members and non-members.
As a research method, I use surveys sent electronically to the companies in Ostrobothnia Chamber of Commerce's region. A total of 355 companies participated in the survey, of whom 262 were members and 92 were non-members.
The members are pleased with the Chamber of Commerce and believe that the membership benefits their businesses. The non-members are not as convinced since they do not have any opinions of the Chamber of Commerce's operations. The Chamber of Commerce however, has varied channels of communication to keep members updated on their operations and other current news. In order to communicate efficiently with all interested parts, the channels should be further developed.
Kokoelmat