Vikten och värdet av rörelseträning i förskolan : en studie om förekomsten av rörelsestunder och barnträdgårdslärarnas upplevelser av rörelseträningen
Hagberg, Emily (2010)
---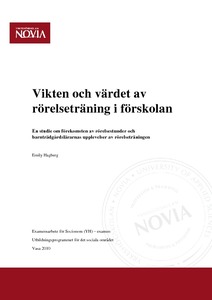 Yrkeshögskolan Novia
2010
All rights reserved
Julkaisun pysyvä osoite on
http://urn.fi/URN:NBN:fi:amk-2010122218880
Tiivistelmä
Syftet med detta lärdomsprov var att undersöka i vilken mån rörelseträning förekommer vid de österbottniska daghemmen och vilka erfarenheter barnträdgårdslärarna
har av rörelseträningen. De aktuella frågeställningarna tangerar respondenternas kunskaper i ämnet rörelseträning, när och hur rörelseträning förekommer på deras daghem och om respondenterna observerat positiva effekter av träningen, samt hur rörelseträningen kunde utvecklas vid deras daghem.
Teoridelen innefattar bland annat historia om barnträdgårdens uppkomst i Finland och hur barnens ställning i samhället förändrats. I teorin kan man
också läsa om vad rörelseträning är och innebär vid daghem, vilken barnträdgårdslärarnas roll i träningen är och vilka effekter rörelseträningen kan ha på annan inlärning.
Undersökningen baserades på frågeformulär och resultaten visade att barnträdgårdslärarna
förhåller sig positiva till rörelseträningen och förstår vikten av den. Rörelseträning utförs vid alla daghem, men barnträdgårdslärarna upplever
också att det finns hinder för att genomföra träningarna, samt behov av fortbildning i ämnet rörelseträning.
The purpose of this thesis was to investigate to what extent motor training exists at the Ostrobothnian kindergartens and which experiences kindergarten
teachers have of motor training. The questions at issue are the respondents' knowledge of the subject of motor training, when and how motor training is done at their kindergartens and whether the respondents have observed any
positive effects of exercise, as well as how motor training could be developed at their kindergarten.
The theory part includes the history of kindergartens in Finland and the changes in the children's status in society. The theoretical part also explains
what the motor training is and means at the kindergarten, what the
kindergarten teacher's role in the training is and what impact motor training can have on other types of learning.
The study was based on questionnaires and the results showed that kindergarten teachers have a positive attitude to motor training and understand the importance of it. Motor training is conducted at all kindergartens, but kindergarten teachers also feel that there are barriers to
implementing training sessions, and a need for training in the subject of motor training.
Kokoelmat