Planering av konferens : Den visuella planeringen och utförandet av SHOK Summit 2010
Westerberg, Linda (2011)
---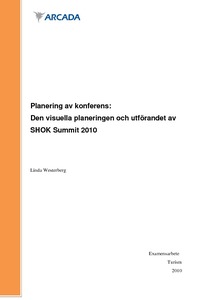 Arcada - Nylands svenska yrkeshögskola
2011

Creative Commons Attribution-NoDerivs 1.0 Finland
Julkaisun pysyvä osoite on
http://urn.fi/URN:NBN:fi:amk-201101171454
Tiivistelmä
Detta examensarbete är ett praktiskt arbete. Jag har varit med och planerat den visuella delen tillsammans med Ville Huovila från Kohu-Live till SHOK Summit 2010, som hölls den 20.4.2010 i mässcentret.
Evenemanget är beställt av Metsäklusteri och vi skulle planera och förverkliga det visuella till seminariet och göra detta enligt kundens önskemål. Som teorigrund har jag i första hand använt mig av Vallo&Häyrinen, Aarrejärvi, Iiskola-Kesonen och O'Toole. Teorin är uppdelat i tre olika faser; planeringsfasen, genomförandefasen, och utvärderingsfasen. Min empiri är baserad på mina egna observationer under evenemangets lopp och av detta kunde jag ge förbättringsförslag till kommande evenemang.
Evenemanget i sig själv var ett lyckat evenemang och Metsäklusteri var nöjd med vår insats och vi var nöjda med samarbetet med Metsäklusteri. Förbättringsförslag till kommande evenemang, var att man skulle kunna göra utvärdering lite djupare och mera professionell, också budgeten skulle kunna göras mera noggrann från första början. Evenemanget var dock en succé och Metsäklusteri ville i framtiden också samarbeta med Kohu-Live, vilket gjorde att vi nådde vårt mål.
This is a practical thesis and the student has been a part of the visual planning of the event SHOK Summit 2010, which took place at Helsinki Fair Center 20.4.2010. The student has planned the visual part to the event, together with Ville Huovila from Kohu-Live Oy.
The aim of this thesis was to be a part of the visual planning and together with Ville Huovila plan it for SHOK Summit 2010. The events visual planning is ordered from Metsäklusteri, who is the main organizer for this event. Our goal is to plan and execute the visuality at the event and do it according to Metsäklusteri's wishes. As the main theory have I used Vallo&Häyrinen, Aarrejärvi, Iiskola-Kesonen and O'Toole. My theory is based on three phases; the planning phase, the execution phase and the evaluation phase. The empirical part is based on my own observations during the event and from that I could give improvement suggestions to forthcoming events.
The event itself was a success and Metsäklusteri was pleased with our work and effort and we were pleased with the cooperation with Metsäklusteri. Things that could have done differently, is for example that the evaluation could have been done better and more professionally. Also the budget could have been done more accurate from the beginning. But as it has been said, the event was a success and Metsäklusteri wants to work with us in the future, which means that we reached our goal.
Kokoelmat