Nya webbsidors effekt utifrån ett e-marknadsföringsperspektiv : Case Dieta Oy
Laitinen, Thomas (2011)
---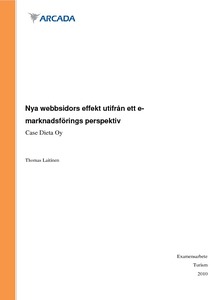 Arcada - Nylands svenska yrkeshögskola
2011
All rights reserved
Julkaisun pysyvä osoite on
http://urn.fi/URN:NBN:fi:amk-201101201559
Tiivistelmä
Syftet med detta arbete är att redogöra för vilka fördelar Dieta Oy har av att ha nya hemsidor och sökmotoroptimering samt att undersöka hur kunderna hittar till de nya hemsidorna.
Den teoretiska referensramen fokuserar sig på elektronisk marknadsföring och konsu-mentbeteende. I den elektroniska marknadsföringsdelen diskuteras dess för- och nack-delar, Internetmarknadsföring, bra hemsidors krav och dessutom diskuteras webbanaly-seringsverktyg. I konsumentbeteende –delen tar jag upp kundbehov, faktorer som på-verkar B2B –konsumentbeteende, kundlojalitet och konsumentbeteende på Internet.
Den empiriska delen av arbetet baserar sig på en kvantitativ undersökning i form av en enkät. Undersökningen skedde med ett frågeformulär som skickades ut åt kunder som registrerat sig på Dieta Oy:s webbutik. Dessutom hade vem som helst möjligheten att svara på frågorna i enkäten via en länk på Dieta Oy:s första sida på hemsidorna.
Resultatet av undersökningen visar att Dieta Oy är på rätt väg med hemsidorna, de an-ses vara intressanta, logiska och hemsidornas layout fick huvudsakligen goda vitsord. Dessutom gjordes framsteg i att få veta hur kunderna söker information på Internet om produkter Dieta Oy säljer och hur kunderna hittar till Dieta Oy:s hemsidor.
The research objective for this thesis is to define Dieta Oy's advantages to have new corporate website, search engine optimizing and to find out how the customers finds the website.
The theoretic framework focuses on electronic marketing and consumer behavior. The e-marketing part discusses themes such as e-marketing's pros and cons, Internet marketing, the requirements of a good websites and also web analyzing tools. In the consumer behavior part I discuss consumer needs, factors that affect B2B –consumer behavior, consumer loyalty and consumer behavior on the Internet.
The empirical part of the study is a quantitative research, a web enquiry, that was sent to customers registered in Dieta Oy's webshop. It was also posted as link on the opening page of Dieta Oy's website.
The results of the study shows that Dieta Oy is on the right track, with the pages being interesting and logical whereas the layout got a good grade from the respondents. Advances have been made on getting to know how customers search information on the Internet about the products Dieta Oy sells and how the customers finds Dieta Oy's website.
Kokoelmat