Etablering och tillväxt av företag inom social- och hälsovård i Borgånejden 2002-2007
Tuominen, Jemina (2009)
---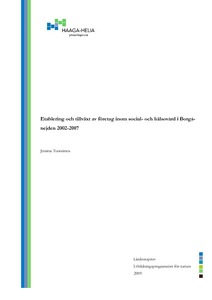 HAAGA-HELIA ammattikorkeakoulu
2009
All rights reserved
Julkaisun pysyvä osoite on
http://urn.fi/URN:NBN:fi:amk-200902171473
Tiivistelmä
Lärdomsprovet gjordes på uppdrag av Borgånejdens Nyföretagarcentral rf. Meningen var att utreda hur mycket företagande har vuxit i allmänhet och speciellt inom social- och hälsovård i Borgånejden; Askola, Borgnäs, Borgå, Pukkila, Mäntsälä, Mörskom och Sibbo under åren 2002-2007. Resultaten jämfördes med statistik över startade företag i hela Finland. I lärdomsprovet presenteras även de olika skedena i startandet av ett eget företag i allmänhet och ur social- och hälsovårdssektorns synvinkel.
Undersökningen gjordes med hjälp av sekundärdata och en kvalitativ forskningsmetod dvs. intervjuer. Statistiken baserar sig på Borgånejdens Nyföretagarcentral rf: s uppgifter från UYK- databasen samt Patent- och Registerstyrelsens CD- Katka-dataregister. Intervjuerna gjordes med experter från området och en företagare inom branschen.
Resultatet bekräftade att Nyföretagarcentralerna uppnått en mycket stabil ställning i Finland som rådgivare för nya företagare samt att företagande vuxit kontinuerligt, inte minst i Borgånejden. Även företagandet inom social- och hälsovård har hela tiden blivit vanligare. Övergången från lönearbete till egen företagare har underlättats under åren och anses nuförtiden vara ett karriäralternativ. Trots den positiva utvecklingen, kommer branschen i framtiden utan tvivel att möta seriösa utmaningar, men förhoppningsvis blir dessa inte ödesdigra för de små företagen.
The thesis was commissioned by The New Entrepreneurship Center for the Porvoo region. The aim was to clarify the growth of entrepreneurship in general and especially within social and health care from 2002 to 2007 in the Porvoo region; Askola, Pornainen, Porvoo, Pukkila, Mäntsälä, Myrskylä and Sipoo. The results were compared with the companies founded in Finland during the same period. The different stages in founding a company in general and from the social and health care point of view, are also presented in this thesis.
The research was done with the help of secondary data and with a qualitative research method, i.e. interviews. The statistic is based on information from the database of The New Entrepreneurship Center for the Porvoo region and the CD- Katka –dataregister from the National Board of Patents and Registration of Finland. The interviews were done with experts from the region and one entrepreneur within the sector.
The results confirmed that The New Entrenepeurship Centers have attained a very stable position in Finland as advisors for new entrepreneurs. Entrepreneurship has grown continually, not the least in the Porvoo region. Entrepreneurship within social and health care has incessantly become more common. The transition from employee to entrepreneur has been made easier during recent years and is nowadays regarded as a career alternative. Despite the positive development, it is fairly certain that this sector will be confronted with serious challenges in the future, but hopefully these will not be destructive for small companies.
Kokoelmat