A case study of name changing
Murto, Armi (2011)
---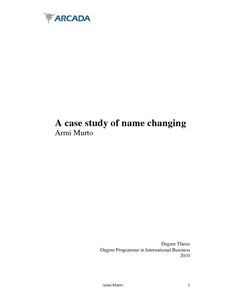 Arcada - Nylands svenska yrkeshögskola
2011
Creative Commons Attribution-NonCommercial-NoDerivs 1.0 Finland
Julkaisun pysyvä osoite on
http://urn.fi/URN:NBN:fi:amk-201102112245
Tiivistelmä
Detta examensarbete handlar om att byta namn i en organisation och hur medlemmar ser på ärendet i denna specifika organisation från en branding och image synvinkel. Undersökningen studerar vad medlemmarna tycker för tillfället om organisationens namn, Svensk Ungdom.
Teorin är från olika källor som handlar om namn processer och bedömning av namnbyte. Undersökningen gjordes på ett kvantitativt sätt i form av enkät. Målsättningen för detta examensarbete var att få reda på om Svensk Ungdoms medlemmar var nöjda med nuvarande namnet och hurudana åsikter de har om ärendet samt om namnet skall bytas samt vilka andra namnförslag medlemmarna skulle ha i så fall.
Efter att ha analyserat teorin kan man konstatera att ett namnbyte behöver välplanerade och grundligt utförda processer innan man kan överväga alternativ. Sakkunniga inom området varnade att motstånd till ändring kommer från flera håll. De sade att man ska ha lika grundligt utförda och välplanerade processer både för att implementera nya namnet och då man undersöker behov av namnbyte.
Resultaten i undersökningen bevisar att en stor del av medlemmarna inte vill byta nuvarande namnet, men dock var en del av den åsikten att namnet skall bytas. Många gav samma alternativ till nytt namn. Resultaten och slutsatserna i examensarbetet är relevanta för specifika organisationen som blivit undersökt och för dens ledning, som ska presentera namnalternativ på organisationens nästa årsmöte våren 2011. Resultaten och detta examensarbete har i överlag öppnat nya möjligheter för fortsatt undersökning och forskning.
This thesis is about name changing in an organization and how members of this specific organization view a possible name change from a branding and image point-of-view. The study researched what the members think of the current name of the organization, Svensk Ungdom. Theory has been gathered from several sources on naming processes and evaluating name changing. The study was conducted by using quantitative research in the form of an image questionnaire. The purpose of the thesis was to find out whether or not the members of Svensk Ungdom are satisfied with the current name and what kinds of attitudes are conveyed in the answers. The thesis also researched what their opinion on changing the name of the organization and what options there could be according to the respondents.
The analysis of the theory concluded that when changing a name one needs to have a well-planned and thorough process before considering options. Experts warned about resistance internally and externally. They also pointed out the importance of a thorough process for implementing a new name. The results of the questionnaire told that a lot of members would not want to consider a name change; however there were some who could consider a name change. Many suggested the same or very similar options for a new name.
The thesis researches results from the questionnaire and conclusions are relevant for the specific organization; as they are to present options for a new name at the next annual meeting in spring 2011. The results and this thesis overall opened new possibilities for further advanced research.
Kokoelmat