Marketing of Nice Run
Smagin, Lia (2010)
---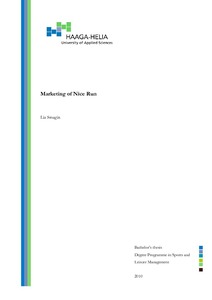 HAAGA-HELIA ammattikorkeakoulu
2010
All rights reserved
Julkaisun pysyvä osoite on
http://urn.fi/URN:NBN:fi:amk-201102152351
Tiivistelmä
Idea for doing this thesis came when Forssan Salama ry started arranging its annual event, called Nice Run. Nice Run is sports event for women held in nine different cities around Finland, these cities were; Pietarsaari, Vaasa, Seinäjoki, Forssa, Jyväskylä, Mikkeli, Lahti, Hämeenlinna and Espoo. Nice Run consists of parts where women run, walk, or jog through marked 5 kilometre route, have a picnic at the area and may participate to other activities arranged.
Hanna-Maija Haikka, project manager in Nice Run suggested to do a research about marketing in Nice Run, since there has been no previous researches made about the subject and it would provide beneficial information for main organizer Forssan Salama ry.
Objectives of this thesis were to investigate how Nice Run was marketed and see which channels of marketing worked and which might need improvement. Also provide suggestions for Forssan Salama ry how to improve marketing in future. Suggestions were gotten from women who participated in Nice Run and answered to the questionnaire which was given to them during the event. Participants also had a chance to answer the questionnaire in the Internet.
Women were asked two questions concerning marketing (see appendix 1.); where did you hear about Nice Run and where could Nice Run be visible and reach women? In first question women had eight sources of which they could choose; e-mail, workplace, media, local organizers, friend, previous Nice Run event, advertisement was sent to me and other. Results were divided into five groups according to age ; this was done in order to see whether there are differences between age groups. Sixth figure is showing the averages of all sources in all age groups. Second question was open question, where women could freely give suggestions for improving marketing. In the end of this thesis suggestions are put together and they provide ideas for Forssan Salama ry how to improve marketing for upcoming events.
Most common answer in designated question was that women had heard about the event at their workplace. In open question most common suggestion for marketing in future was through local magazines.
Women were eager to help and gave a lot of good advices concerning future. Forssan Salama ry may use information gotten from these results and try to do improvements for years to come.
Kokoelmat