Hur ska vi förstå varandra?: En kvalitativ studie om barnmorskors upplevelser och erfarenheter av att kommunicera med kvinnor med främmande modersmål på BB och förlossning. Utvecklingsarbete: Då orden inte räcker till: En virtuell kurs om att kommunicera och ge stöd då ett gemensamt språk saknas.
Jansson, Sara (2019)
---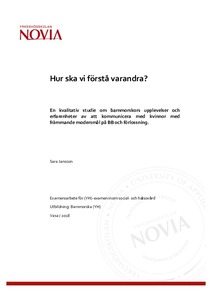 2019
All rights reserved. This publication is copyrighted. You may download, display and print it for Your own personal use. Commercial use is prohibited.
Julkaisun pysyvä osoite on
http://urn.fi/URN:NBN:fi:amk-2019111221064
Tiivistelmä
År 2016 minskade antalet personer som pratar något av de inhemska språken i Finland med 8 000 och antalet personer med främmande modersmål ökade med 24 000 (Statistikcentralen, 2017). Genom detta arbete vill respondenten lyfta fram kommunikationens värde i vården av kvinnor under en förlossning och på BB-avdelning.
Syftet med studien är att beskriva barnmorskors upplevelser och erfarenheter av att kommunicera med kvinnor med främmande modersmål i mödravård i sjukhusmiljö.
Datainsamlingen bestod av intervjuer med sju barnmorskor. Intervjuerna transkriberades och analyserades med kvalitativ innehållsanalys enligt Elo och Kyngäs (2008).
Genom analysen bildades fem huvudteman för resultatet: Att överkomma språkbarriären; Skillnader mellan förlossning och BB-avdelning; Mötet; Vården; Vårdrelationen. I resultatet framkommer att barnmorskorna upplever det utmanande och givande att vårda kvinnor med främmande modersmål. Barnmorskorna upplever att det viktigaste för att uppnå en god vårdrelation med kvinnor med främmande modersmål är att visa att man bryr sig och att vara närvarande. Barnmorskorna nämner också vilka hjälpmedel de använder för att underlätta kommunikationen. Det är viktigt att kvinnan får tillräckligt med stöd under förlossningen för att hjälpa henne hantera smärtan. Resultatet speglades mot Coffmans och Rays (1999) teori om ömsesidig interaktion.
Förslag på förbättringar inom vården är att en tolk skulle träffa kvinnan varje dag medan hon är på BB och tolkar skulle vara tillgängliga dygnet runt. För att öka stödet för kvinnor som saknar anhöriga under förlossningen, kan tillgängligheten till doulor med gemensamt språk som kvinnan öka.
Utvecklingsarbete:
Detta utvecklingsarbete grundar sig på examensarbetet Hur ska vi förstå varandra? – En kvalitativ studie om barnmorskors upplevelser och erfarenheter av att kommunicera med kvinnor med främmande modersmål på BB och förlossning (Jansson, 2018).
Syftet med utvecklingsarbetet är att upplysa blivande barnmorskor om olika sätt att kommunicera och ge stöd då kvinnan har ett främmande modersmål. För att uppnå syftet ställdes två forskningsfrågor: Hur kan vi kommunicera? och Hur kan vi ge stöd?
Resultatet är en virtuell kurs på läroplattformen Moodle. Kursen är indelad i tre delar; Barnmorskors upplevelser och erfarenheter, Kommunikationssätt och Att ge stöd. I kursmaterialet framkommer olika sätt att kommunicera samt stödets betydelse i vården. Det finns även exempel på hur man kan gå tillväga i praktiken. I kursen finns också länkar till olika hemsidor som studerande kan ha nytta av.
Kursen är främst inriktad till barnmorskestuderande, för att komplettera grundstudierna, men även andra inom vården kan ha nytta av kursen.
In 2016 the number of people speaking any of the native languages decreased with 8 000 and the amount of people speaking foreign languages increased with 24 000 (Statistikcentralen, 2017). With this study the respondent wants to highlight the value of communication when caring for women in a maternity and postnatal ward in a central
hospital.
The aim of this study is to describe midwives´ experience of communicating with women speaking a foreign language during maternity care in a hospital setting.
The data was collected through interviews with seven midwives. The interviews were then transcribed and analysed through qualitative content analysis according to Elo and Kyngäs (2008).
The analysed data was divided into five main themes describing the midwives' experiences: To overcome the language barrier; Differences between labour care and postnatal care; The encounter; The care; The caring relationship. The results show that giving care to women with a foreign language is both challenging and rewarding. The midwives believe that the most important factor to achieve a good caring relationship with the women is to show compassion and to be present. It is important that the women are
supported during delivery to help them cope with the pain. The midwives also discussed the methods they use to be able to communicate with the women. The result was reflected to Coffman's and Ray's (1999) theory about Mutual Intentionality.
To improve the care, an interpreter could meet the woman every day on the postnatal ward and interpreters could be available twenty-four-seven. In order to increase the support for women without relatives during labour, the accessibility to doulas who speak the same language as the women could to be improved.
Bachelor's thesis:
This is an immersed study of the Bachelor´s thesis How are we going to understand each other? – A qualitative study about midwives' experience of communicating with women who speak a foreign language in the maternity and postnatal ward (Jansson, 2018).
The aim with this study is to enlighten midwife students about different ways to communicate and give support, when the woman is speaking a foreign language. To reach the aim of this study, two research questions are presented: How can we communicate? and How can we give support?
The results of this immersed study is an online course on the platform Moodle. The course is divided into three parts; Midwives´ experience, Different ways to communicate and To give support. The importance of giving support and different ways of communicating are presented in the course. Examples of how to implement the information in practice are also presented. In the course you will also find links to sites that can be useful for the students.
The course is mainly aimed for midwife students, as a complement to the basic studies, but the course can also be useful for other students in healthcare.
Kokoelmat