Musikbranschen i förändring : Artistens möjligheter med och utan skivbolag
Järnström, Sofia Maria (2011)
---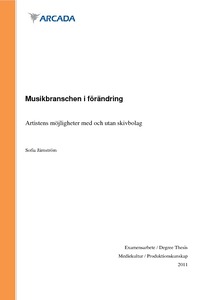 Arcada - Nylands svenska yrkeshögskola
2011
All rights reserved
Julkaisun pysyvä osoite on
http://urn.fi/URN:NBN:fi:amk-201103213419
Tiivistelmä
Syftet med mitt examensarbete är att undersöka i vilken utsträckning artister kan nå en publik utan att ingå ett skivkontrakt och att klargöra för vilka kanaler som finns tillgäng-liga för självständig marknadsföring. Undersökningen är kvalitativ och jag kommer att fokusera på fyra intervjuer med personer inom
branschen.
Jag fokuserar på dessa frågor:
1) Hur kan en artist nå ut med sin musik, utan att ha ett skivbolag bakom sig som marknadsförare och distributör?
2) Vilka nya mediekanaler och distributionskanaler kan man använda för att få ut sin musik?
3) Allt fler band har klarat sig och slagit igenom utan skivkontrakt. Hur har det gått till? Kan det bli en trend?
Teknologins och internets utveckling har gjort det möjligt för artister obundna av skivbo-lag att nå ut i världen med sin musik. Genom att använda sig av sociala nätverk på inter-net som t.ex. YouTube, MySpace och Facebook kan artister gratis sprida musiken och därmed nå nya lyssnare och fans. Kanalerna erbjuder dessutom möjlighet till försäljning och kommunikation med lyssnarna. Att producera en skiva behöver inte längre vara en enorm kostnad och många artister överväger att försöka klara sig utan skivbolag. Dagens artister verkar vara väl insatta i och har mycket kunskap om branschen. Många artister har slagit igenom utan skivbolag, bl.a. finländska electrogruppen LCMDF. Jag presente-rar också "Long Tail-teorin" eftersom LCMDF:s väg till musikbranschen bekräftar teo-rin. Jag har gjort en fallstudie på Hitlantis, en ny finsk internetbaserad musiktjänst. Jag tar också upp några andra nya musiktjänster som har påverkat musikbranschen. Man kan ge ut musik idag, men det är svårt att förtjäna på det eftersom allt är tillgängligt på internet och konkurrensen är stor.
The purpose of my examination paper is to study to what extent artists can reach the audience without signing a contract with a record company, and to clarify the potential channels available for independent marketing. This is a qualitative study focusing on four in-depth interviews with professionals in the industry.
My focus areas include the following questions
1) How can an artist distribute the music without the marketing and distribution support of a record company?
2) What are the new media's and distribution channels available for distribution of the art-ists' music?
3) A growing number of bands have succeeded without the support of record companies. How did they do it? Can this become a trend?
The development of technology and web has given independent artists the possibility to reach the world with their music. By using the social network on the web, YouTube, MySpace and Facebook, the artist can without a cost distribute the music and reach a wide audience. The channels also offer the possibility to sell and to communicate with the audience. Producing a record does not anymore have to be a high cost operation and sev-eral artists are considering this as an alternative to a record company. Today's artists seem to be very familiar with the business and to have a great deal of knowledge of the industry. Several artists have made it without a record company, for example the Finnish electro band LCMDF. In my paper I will also present the "Long Tail-theory", since LCMDF's road to the music Industry supports the theory. I have made a case study on Hitlantis, a new Finnish web based music service. In addition I will present some other new music services thathave influenced the music industry.
It is possible to launch music today, but due to the availability on the web and the severe competition it is difficult to generate some money.
Kokoelmat