Product Structure and Information as a Common Model; A manufacturing company case study
Järnström, Niklas (2019)
---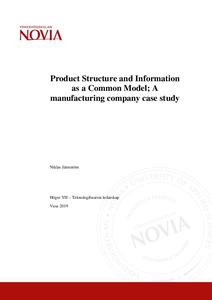 2019
All rights reserved. This publication is copyrighted. You may download, display and print it for Your own personal use. Commercial use is prohibited.
Julkaisun pysyvä osoite on
https://urn.fi/URN:NBN:fi:amk-2019112722759
Tiivistelmä
The ever-increasing customer demand for customized products is putting manufacturing companies under pressure as new products and product features must be introduced rapidly to the market. Product information and configuration are key elements for successfully handing the developing product portfolio and satisfying customer demands.
The need for product information varies between organizational functions and the purpose of this thesis has been to find out what the effects are, if the product information is not handled in a common way. This thesis has defined three research questions related to product information which have provided the theoretical framework. The study has been conducted in a case company in form of qualitative interview sessions providing a current state analysis. The target is to answer the research questions with the help of the theory and a current state analysis.
The study lists several effects caused by the lack of product information and product structure e.g. unwanted increase in product variations. The study concludes that product information is a subject of segmentation (data silos) in organizational functions. This results in interpretation of information as data from one silo must be matched with data in another silo.
The combination of the current state analysis and the theory provides a baseline for handling product information supporting a common structure applicable for all organizational functions. An example of a common product structure supporting the varying need of information is presented in the end of this thesis.
Kundernas ständigt ökande krav på skräddarsydda produkter ökar pressen på företag med egen tillverkning på grund av att nya produkter och nya produktegenskaper snabbt måste lanseras på marknaden för att bibehålla marknadspositionen. Information om produkten och produktens konfigurabilitet är centrala delar för en successiv hantering av en växande produkt portfölj samt att tillgodose kundens önskemål.
Behovet av information relaterat till produkten varierar mellan olika organisatoriska funktioner. Syftet med detta slutarbete är identifiera konsekvenser som uppstår om produktinfromation inte hanteras enligt en gemensam modell. Detta slutarbete centraliseras runt tre forskningsfrågor som direkt är relaterade till produktinformation. Dessa forskningsfrågor har satt gunden till den teoretiska ramen. Slutarbetet har utförts i ett företag i form av en studie bestående av kvalitativa intervjuver vilket har gett en insikt i den nuvarande situationen i företaget. Målet är att svara på forskningsfrågor med hjälp av den teoretiska ramen samt insikten i den nuvarande situationen.
Studien listar flera konsekvenser som orsakas av en bristande tillgång till produkt- information och -struktur t.ex. en oönskad utökning av produkternas varians. Som en slutsats för denna studie kan konstateras att produktinformation är subjekt för segementering där datan ofta definieras i datasilon. Detta fenomen resulterar tolkning av information p.g.a att data från ett segment måste likställas data från ett annat.
En kombination av den nuvarande situationen och den teoretiska ramen ger en god grund för en gemensam modell för att hantera produktinformation på så vis att den stöder tillgänglighet av data för alla organisatoriska funktioner. Ett exempel på en gemensam modell är presenterad i slutet av detta arbete.
Kokoelmat