Konventionell kosmetik och naturkosmetik : en teoretisk studie om skillnaderna mellan konventionell kosmetik och naturkosmetik samt deras påverkan på miljön och människans hälsa
Haglund, Eveliina (2019)
---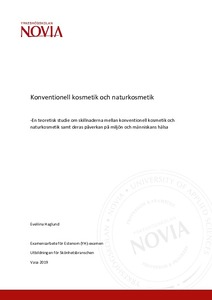 2019
All rights reserved. This publication is copyrighted. You may download, display and print it for Your own personal use. Commercial use is prohibited.
Julkaisun pysyvä osoite on
https://urn.fi/URN:NBN:fi:amk-2019112823117
Tiivistelmä
Syftet med denna studie är att ta reda på skillnaderna mellan konventionell kosmetik och naturkosmetik samt deras påverkan på miljön och människans hälsa. Detta har gjorts för att upplysa konsumenter, branschmänniskor och respondenten om betydelsen av valet av kosmetikprodukter i relation till ovannämnda egenskaper. I studien jämförs även konventionella kosmetikens och naturkosmetikens innehåll och egenskaper.
Studien är en forskningsöversikt och respondenten har sammanställt tidigare studier som genomförts inom ämnet. Respondenten har använt sig av dokumentstudier som datainsamlingsmetod och som dataanalysmetod har respondenten använt sig av innehållsanalys.
Resultatet påvisar att största skillnaden mellan naturkosmetik och konventionell är vad de innehåller. Konventionell kosmetik består huvudsakligen av syntetiska ämnen medan naturkosmetikens ingredienser härstammar från naturen. När det kommer till makeup har konventionell kosmetik ett bättre urval av färger och makeupen hålls längre på plats. Naturkosmetiken anses vara mer vårdande medan konventionell kosmetik innehåller en del diskutabla ämnen ur ett hälsoperspektiv. Båda typerna av kosmetik kan orsaka allergier. Enligt litteraturmaterialet belastar den konventionella kosmetiken miljön mer än naturkosmetiken.
The purpose of this study is to research the differences between conventional cosmetics and natural cosmetics and their effect on the environment and human health. The aim is to point out to consumers, professionals and the author the impact of choice in cosmetics in relation to the characteristics listed above. The content and the characteristics of conventional cosmetics and natural cosmetics are also compared in the study.
The thesis is an overview of studies made in the field of cosmetics compared by the author. The author has used the method document studies to collect data and the method used to analyse the documents is document analysis.
The results show that the main difference between natural and conventional cosmetics is the content. Conventional cosmetics mainly consist of synthesized ingredients while the main content in natural cosmetics origin from nature. The conventional make-up usually has a wider variety of colors and stays longer in place. Natural cosmetics are seen as nurturing while conventional cosmetics contain questionable substances from a health perspective. Both types can cause allergies. According to research conventional cosmetics have a bigger impact on the environment than natural cosmetics.
Kokoelmat