Faktorer som påverkar inköpsprocessen från Sydkorea
Back, Sandra (2019)
---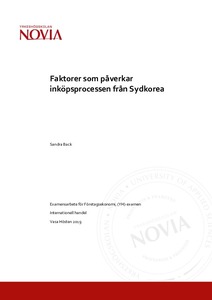 2019
All rights reserved. This publication is copyrighted. You may download, display and print it for Your own personal use. Commercial use is prohibited.
Julkaisun pysyvä osoite on
https://urn.fi/URN:NBN:fi:amk-2019112823151
Tiivistelmä
Handel mellanföretagbelägna i olikaländer kan medföra kulturellaoch praktiskaproblem vilkakan leda till missförstånd mellan parterna. Det har bevisats att kulturkännedom leder till bättre tillit mellan handelspartner belägna i olika länder. Syftet med detta examensarbete är att kartlägga olika marknadsomgivningsfaktorer som påverkar inköpsprocessen med företag belägnai Sydkorea.
Examensarbetets teoretiska del kartläggerhur den Sydkoreanska marknadsomgivningenpåverkar internationell handelmed hjälp av enPEST-omgivningsanalys. I PEST-analysen beskrivs de politiska, ekonomiska, sociokulturella och politiska faktorerna. Ytterligare analyseras Sydkoreas kultur som faktor som kan påverka inköpsprocessen. Kulturen analyseras medstöd avHofstedes kulturdimensioner. Ytterligare redogörsför Van Weeles steg för steg modell av inköpsprocessen. Inköpsprocessenbeskriver hur företag går tillväga angående inköp
I den empiriska delen av examensarbetet har en intervjugenomförtsmed Orien Trade Finland Oy. Företagetfungerar som grossist för sydkoreansk kosmetika på den finländska marknaden. Intervjun belyser kulturskillnader och praktiska problem som finländska företagkan stöta på underinköpsprocessenav sydkoreansk kosmetika. Resultatet visarpåatt inköpsprocessen påverkas beroende på marknadsomgivningen och företagens kulturella bakgrunder.
Business among companies located in different countries may lead to cultural and practical complications which in turn may lead to misunderstanding among the parties. It has been proven that cultural knowledge benefits the trust between two business parties located in different countries. The purpose of this bachelor's thesis is to map out thebusinessenvironmental factorsthat may have an impact on the purchasing process when doing business with companies located in South Korea.
The theoretical part describes how the business environment in South Korea affects international business by performing aPEST-environment analysis. Through the PEST-analysis the political, economic, sociocultural and technology factors are described. Furthermore, South Korea's culture is described as a business environmental factor which may affect the purchasing process. Theculture is illustrated with the help of Hofstede's cultural dimensions. Finally, the purchasing process by Van Weele isdescribed. Van Weele's purchasing process describes how a company executesthe purchasing process step by step.
The empirical part consistsof aninterview with Orien Trade Finland Oy. The company is a wholesaler of South Korean cosmetics on the Finnish market.The interview provide insight regardingthe cultural differences and practical problems a Finnish wholesaler may encounter during the purchasing process of South Koreancosmetics. The result confirms that the purchasing process is affected by the market environment and thecompany's cultural backgrounds.
Kokoelmat