Well-being and motivation of generation Y individuals in self-directive work
Eloheimo, Vilma (2019)
---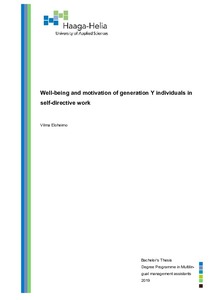 2019
Julkaisun pysyvä osoite on
http://urn.fi/URN:NBN:fi:amk-2019112823267
Tiivistelmä
This thesis researches motivation and well-being of generation Y individuals in self-directive work. Self-direction is a part of the changing working life and on the individual level self-direction refers to an individual's ability to function autonomously. The objective of this thesis is to gain understanding about generation Y individuals' perspective of self-direction – to examine and introduce aspects that affect motivation and well-being of self-directive individuals. In addition, this thesis aims to find out what kind of qualities or skills help individuals succeed in self-directive work, and in turn, what the organization can do to support the individuals to make it possible to be self-directive.

This thesis comprises of five main chapters, which are introduction, literature review, conducting the research, interview findings, and discussion. With the help of the literature review, existing research and information about the topic is examined and the main concepts are defined, such as self-directive individual, self-managing organization, generation Y, motivation and well-being. In turn, in the empirical part of the thesis, qualitative data is gathered on the basis of the initial information gathering, with the help of six theme interviews.

For this research-oriented thesis, qualitative methods were used to collect and analyze
data. Qualitative methods were an appropriate choice for this thesis, because the objective was to gain a deeper understanding of the phenomenon. Data for this thesis was collected through six theme interviews, that were conducted in September 2019 with generation Y representatives. In addition, an expert interview was conducted in order to get insight to the topic from the organizational perspective.

The research findings reveal that clearly defining objectives and expectations as well as
giving feedback is essential for individuals' motivation and well-being in self-directive work. Self-direction is seen as a positive thing, but also acknowledged that it might not suit every individual and can have factors negatively affecting motivation and well-being. Motivation and well-being in self-directive work are enhanced by the ability to make decisions and affect one's own work, try new things and solve problems. Certain kinds of qualities and skills can support self-direction, such as communication and problem solving skills, being self-imposed and able to prioritize and manage one's own work. Furthermore, individuals need to be given space to be self-directive and make decisions. Even though self-direction requires autonomy and independency from an individual, they might need guidance and support in their work, especially generation Y representatives when they are starting out their careers.

The findings support generation Y individuals' adaptation in the changing working life, and help organizations get a deeper understanding of the generation Y in self-directive work.
Kokoelmat