Helgenomsekvensering av antibiotikaresistenta bakterier inom klinisk diagnostik: En litteraturöversikt om möjligheter för implementering av helgenomsekvensering (WGS) i det mikrobiologiska laboratoriet
Sörhannus, Amanda (2019)
---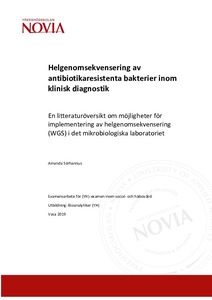 2019
All rights reserved. This publication is copyrighted. You may download, display and print it for Your own personal use. Commercial use is prohibited.
Julkaisun pysyvä osoite on
http://urn.fi/URN:NBN:fi:amk-2019120223946
Tiivistelmä
Helgenomsekvensering (WGS) av bakterier innebär att allt DNA hos bakterien fragmenteras och sekvenseras, för att senare kunna analyseras. I Finland har THL börjat använda sig av WGS, speciellt för övervakning och den epidemiska screeningen. Syftet med examensarbetet är att undersöka huruvida en implementering av WGS i det mikrobiologiska laboratoriet minskar spridningen av antibiotikaresistenta bakterier. Arbetet har också besvarat vilka fördelar samt utmaningar det finns med helgenomsekvensering för påvisning och analysering av bakterier.
Examensarbetet har besvarat frågeställningarna genom en litteraturöversikt av vetenskapliga artiklar. Litteratursökningen gjordes på databaserna: Pubmed, EBSCO, Elsevier, Google schoolar och i Tritonias databas. Artiklarna skulle vara gratis, full text, på svenska, engelska eller finska och vara utgiven tidigast 2014. Sökord som användes var bland annat: WGS, whole-genome sequencing, helgenomsekvensering, AMR, antibiotikaresistenta bakterier, multiresistance och microbes. Sökningen resulterade i 16 artiklar, som kunde relateras till frågeställningarna.
Tolkning av resultatet, baserat på litteraturöversikten, gav svaret att helgenomsekvensering för påvisning och analysering av bakterier i dagens läge är för kostsamt och att det krävs mera forskning kring resistensgener, för att kunna bedöma resistensen hos bakterier. Den största fördelen med WGS kunde man finna vid epidemiologiska undersökningar.
Whole-genome sequencing (WGS) of bacteria means that all DNA of the bacterium is fragmented and sequenced, for later analysis. In Finland, THL has started using WGS, especially for surveillance and the epidemic screening, the purpose of the thesis is to investigate whether the implementation of WGS in the microbiological laboratory reduces the spread of antibiotic-resistant bacteria. The work has also answered the advantages and challenges of whole-genome sequencing for the detection and analysis of bacteria.
The thesis has answered the questions through a literature review of scientific articles. The literature search was done on the databases: Pubmed, EBSCO, Elsevier, Google schools and in Tritonia's database. The articles had to be free, full text, in Swedish, English or Finnish and be published no earlier than 2014. Keywords used were, among others: WGS, whole- genome sequencing, AMR, antibiotic resistant bacteria, multiresistance and microbes. The search resulted in 16 articles, which could be related to the issues.
Interpretation of the results, based on the literature review, showed that whole-genome sequencing for the detection and analysis of bacteria is currently costly and that greater research is needed on resistance genes, in order to be able to assess the resistance of bacteria. The greatest advantage of WGS was found in epidemiological studies.
Kokoelmat