Undersökningar för diagnostisering och uppföljning av prostatacancer
Sandkulla, Madelene; Hellström, Linn (2019)
---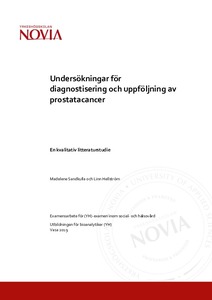 Sandkulla, Madelene
Hellström, Linn
2019
All rights reserved. This publication is copyrighted. You may download, display and print it for Your own personal use. Commercial use is prohibited.
Julkaisun pysyvä osoite on
https://urn.fi/URN:NBN:fi:amk-2019120625193
Tiivistelmä
Examensarbetet är en litteraturstudie vars syfte är att ge ökad kunskap om diagnostisering och uppföljning av prostatacancer. Frågeställningarna i arbetet är följande: Vilka olika undersökningar kan påvisa prostatacancer? Hur kan man med hjälp av screening upptäcka prostatacancer? Hur går uppföljning till vid prostatacancer? Prostatacancer är den vanligaste cancerformen bland män i Finland, kring 5000 nya fall av prostatacancer upptäcks årligen i Finland. God kunskap om själva diagnostiseringen och uppföljningen av prostatacancer är viktigt för att patienten skall få rätt behandlingsform mot prostatacancern. God kunskap om diagnostiseringen leder också till minskning av överdiagnostisering av prostatacancer, vilket resulterar i att onödiga behandlingar vid prostatacancer minskar.
Examensarbetet tar upp allmän information om prostatacancer. Laboratorieundersökningsprocessens skeden beskrivs, samt genom vilka olika sätt och metoder man kan diagnostisera och upptäcka prostatacancer. Prostataspecifikt antigen kan användas som organspecifik markör för prostatacancer och prostataspecifikt antigenens uppgifter i kroppen nämns även i arbetet. Uppföljning av prostatacancer är en viktig del i sjukdomsförloppet samt screeningsprocessen har varit ett viktigt diskussionsämne där man funderar kring för- och nackdelar. Olika alternativ till behandlingsformer vid prostatacancer tas även upp i arbetet.
The purpose of this thesis is to provide a better knowledge of diagnosing and monitoring prostate cancer. The question formulations in this thesis are: Which different analysis are used to detect prostate cancer? How screening can be useful to detect prostate cancer? And how monitoring works in prostate cancer? Prostate cancer is the most common form of cancer among men in Finland, about 5000 new cases are yearly detected in Finland. Good knowledge about diagnosing and monitoring prostate cancer is an important part to get the right treatment against prostate cancer. Good knowledge about diagnosing leads to reduction of over detection prostate cancer, which leads to unnecessary treatments.
This thesis contains general information about prostate cancer, the steps of the laboratory examinations process are described also, which methods that can be used to detect and diagnose prostate cancer. Prostate-specific antigen can be used as organ specific marker for prostate cancer and which functions prostate-specific antigen has in the body are also discussed in this thesis. Monitoring prostate cancer is also an important part in the disease progression. Another thing that has been discussed is the pros and cons of prostate cancer screening-programs. Different alternatives for treatment for prostate cancer are also written about in this thesis.
The thesis is a literature study where the purpose and question formulation are answered in the text, which laboratory analysis can prove prostate cancer a
Kokoelmat