Co-Creating Legal Design Curriculum for Master´s Degree: Further-Developing Curriculum Based on Future Megatrends and Student Learning Experience
Niinikoski, Sanna (2019)
---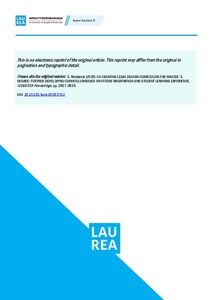 Niinikoski, Sanna
Editoija
L. Gómez Chova, A. López Martínez, I. Candel Torres
International Academy of Technology, Education and Development
2019
Julkaisun pysyvä osoite on
http://urn.fi/URN:NBN:fi-fe202001142077
Lähdeviite:
Niinikoski S., (2019). Co-Creating Legal Design Curriculum for Master´s Degree: Further-Developing Curriculum Based on Future Megatrends and Student Learning Experience. L. Gómez Chova A. (Ed).,
ICERI2019 Proceedings
., International Academy of Technology, Education and Development.
Tiivistelmä
The aim of this paper is to describe the curriculum co-creation done at Laurea University of Applied Sciences in the Master ́s Degree Programme of Legal Design and Expertise. The intention of this inquiry was to test a new way to further-develop the curriculum for the next students and application round.The aim with curriculum design and development is to make sure education offered in higher education is up to date. Even though working life representatives have good knowledge about the competences and skills needed in working life, it is as important to notice and hear the experiences of current students as well and get feedback from them.Therefore, in this case co-creation with the students studying in the programme was chosen as a method to further-develop the curriculum. Student experiences and feedback were gathered in the form of curriculum development workshop, in which co-creation process was based on the first curriculum and the megatrend cards -publication by Finnish innovation fund Sitra. The megatrend cards were chosen to test how well the curriculum matches the future megatrends and where there would be a need for improvement.What was interesting in results of the workshop, students were able to identify many phenomena (like digitalization, AI and creativity) rising from the Sitra megatrend cards in the existing curriculum. However, some elements, for example globalization and environmental issues related to society and law could be considered more deeply in the next curriculum. The results also showed, that students had some developing ideas concerning the implementation plan of the courses, but quite few concerning the curriculum and intended learning outcomes themselves. While the co-creation activities helped to design more student-centric curriculum for the secondapplication round, it had also other benefits. The idea and aim were also to help students to identify, reflect and describe skills and competences the programme is intended to give them: what they had already learned and what was still coming. Since legal design is a relatively new field, it is crucial for students of this programme to be able to describe what are their skills and competences and how those can be utilized in working life and even more broadly in society. Based on the findings of co-creation workshop and active observation during the whole first semester, the second version of the legal design curriculum is now being developed and the idea is to continue co- creation activities also with the second group of students starting in the same programme in September 2020. Based on this co-creation experience, students could be used more widely in the development of higher education practices in other areas as well.
Kokoelmat
Samankaltainen aineisto
Näytetään aineisto, joilla on samankaltaisia nimekkeitä, tekijöitä tai asiasanoja.
Kinnunen, Markku

(

Metropolia Ammattikorkeakoulu

,

2015

)

Moore's law of exponential growth predicted the doubling of processor speed per unit of area on silicon microchips with a doubling period of 18 months. This has continued to be the case ever since Gordon Moore first ...

Renfors, Sanna-Mari

(

Haworth Hospitality Press

,

2018

)

Ketamo, Harri

;

Moisio, Anu

;

Passi-Rauste, Anu

;

Alamäki, Ari

(

Academic Conference Publishing International

,

2019

)

One of the biggest challenges in the design of a work-related curriculum is to make sure that the curriculum is up-to-date and uses the same vocabulary as the work setting. This may sound easy, but if almost any curriculum ...