Foreign Language Learning with Flipped Classroom Method in Higher Education in Finland
Kirkkomäki, Annika; Kavander, Pirjo; Tuunanen, Maria; Kettunen, Sinikka (2019)
---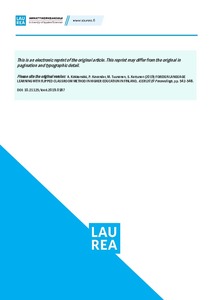 Kirkkomäki, Annika
Kavander, Pirjo
Tuunanen, Maria
Kettunen, Sinikka
Editoija
L. Gómez Chova, A. López Martínez, I. Candel Torres
International Academy of Technology, Education and Development
2019
Julkaisun pysyvä osoite on
http://urn.fi/URN:NBN:fi-fe202001142082
Tiivistelmä
This paper discusses flipped classroom method in teaching and learning professional Swedish in higher
education in Finland. A team of language teachers in higher educational institutes has been developing
the method in a national development project for second language learning in higher education. The
project is financed by the Finnish Ministry of education as a strategic priority project. The team consists
of members from four institutions: Laurea University of Applied Sciences, Turku University of Applied
Sciences, Jyväskylä University of Applied Sciences and University of Eastern Finland.

The objective of this paper is to present flipped classroom method in language teaching and studies and
to introduce the possibilities of the method as an alternative to traditional language teaching. The aim
of the flipped classroom project was to find out if learning would be more efficient using flipped classroom
method and if the method could be used effectively in heterogenic student groups.

During the project the teachers created a model course in Google Sites environment containing flipped
classroom study modules which they have tested and used in their own pilot student groups. The main
focus in the modules is on the oral and written work life related, professional language skills. The created
Google Sites material, Common European Frame of Reference level B1, is intended for the use of
Swedish language teachers in higher educational institutes and the method can easily be used in any
language studies.

The collected student feedback from the flipped classroom courses shows that the students found it
useful to in advance study the material by themselves and then in flipped classroom use the theory in
practice in various work life related oral and written communication situations. As an alternative to the
tradition of studying the theory in the class, the students were now able to concentrate on practicing and
deepening their skills in central course contents in classroom communication and at the same time get
teacher guidance and stimulating feedback.

The created Google Sites environment benefits digitalization and technology. All the study material is
available for the students in advance including a study plan for the next contact lesson. This way the
students know what material to study prior the lesson and what kind of situations will be practiced in the
flipped classroom peer communication.
Kokoelmat