Betongarbete : vattentät betongarbete vid Hopeakivenlahden reningsverk
Backström, Oskar (2011)
---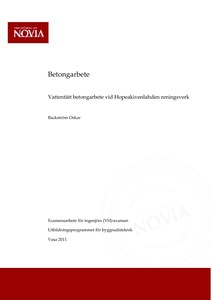 Yrkeshögskolan Novia
2011
All rights reserved
Julkaisun pysyvä osoite on
http://urn.fi/URN:NBN:fi:amk-201104214667
Tiivistelmä
Detta examensarbete gjordes som en sammanställning av betongnormerna och arbetsbeskrivningar för byggprojektet Hopeakivenlahden reningsverk. Byggentreprenaden hade Lemminkäinen Talo Oy Forsström, de var även beställare av detta examensarbete. Syftet med detta examensarbete var att klargöra vilka områden som bör beaktas när det arbetas med betong och på detta sätt vidga kunskaperna om vilka direktiv som gäller för olika betongarbeten. Examensarbetet är en faktabaserad studie som baserar sig på de direktiv och regler som den finska betongföreningen och byggnadsingenjörsföreningen har gett ut. Materialet som samlades ihop lästes och de viktigaste punkterna lyftes fram och översattes till svenska, eftersom allt material som användes var skrivet på finska.
Detta examensarbete gjordes för beställarens byggprojekt som pågår till slutet av 2011. Vid byggprojektet gjuts en stor del vattentäta betongkonstruktioner, därför behandlar detta examensarbete betongarbetets verktyg och även områden som vattentät betong, vinterbetonering och efterbehandling. Efter den allmänna fakta delen beskrivs de olika arbetsskedena och de krav som beställaren av byggprojektet ställer på byggföretaget som har beställt detta examensarbete. Det kommer även fram vilka olika protokoll som beställaren ville ha av byggföretaget. När de direktiv som beställaren av byggprojektet och de direktiv och regler som finska betongföreningen och byggnadsingenjörsförbundet har jämförts, syns det tydligt att beställarens krav på betongarbetet finns inom ramarna för vad de allmänna bestämmelserna ger.
This thesis was made as a compilation of concrete standards and job descriptions for the construction project Hopeakivenlahti treatment plants. The building contractor was Lemminkäinen Talo Oy Forsström. They were also the commissioner of this thesis work. The purpose of this study was to list the issues that should be considered when working with concrete and to expand the knowledge of concrete products and the directives for different concrete works. The thesis is a factual study based on the directives and rules by the Finnish Concrete Association and the Building Engineering Society. I read through all the material and the main points were then highlighted and translated into Swedish, as everything was originally written in Finnish.
My work was done to support the commissioner's construction projects going on until the end of 2011. The construction project involves a lot of waterproof concrete structures. That is why this thesis deals with concrete work, tools that are used when casting concrete, even waterproof concrete, winter casting and after-treatment. After the section of general facts the various phases are described as well as the demands of the client. Also the various protocols that the client wanted from the building contractor are presented. When the directives and rules of the associations mentioned above were compared to the wishes of the treatment plant purchaser, it became clear that the purchaser's requirements for concrete work were within the limits for what the general rules stipulate.
Kokoelmat