Viking Lines företagsbild angående hållbar utveckling och samhällsansvar : En studie utifrån ett finländskt perspektiv med fokus på miljöhemsidorna
Bäckman, Antonia (2011)
---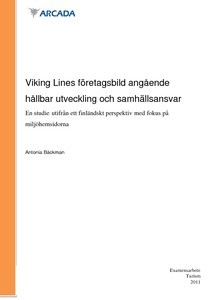 Arcada - Nylands svenska yrkeshögskola
2011
All rights reserved
Julkaisun pysyvä osoite on
http://urn.fi/URN:NBN:fi:amk-201105107177
Tiivistelmä
Sammandrag:
Syftet är att utreda Viking Lines möjligheter att utveckla sin företagsbild på sina finska hemsidor visavi fortgående utveckling av miljö- och samhällsansvar. Meningen är att överskådligt se hurdan information som bör finnas på företagets miljöhemsidor för att på bästa möjliga sätt presentera det arbete som görs för en fortgående utveckling av företagets samhällsansvar. Meningen är också att redogöra för hur företaget kan uppdatera sin företagsbild på hemsidorna så att images och brandet upplevs mer ansvarfullt och miljövänligt. Arbetet har avgränsats till att behandla företagsbilden i det finska samhället. Viking Line anser att de gör en hel del arbete för den hållbara utvecklingen, men upplever att budskapet inte når fram tillräckligt starkt till kunderna.
Teorin behandlar image, branding, hållbar utveckling, samhällsansvar och e-marknadsföring med betoning på hemsidorna. Undersökningen gjordes som en kvalitativ undersökning med hjälp av en semistrukturerad frågeguide. Respondenterna bestod av specialister för företagens miljöarbete och hemsidor. Intervjuerna utfördes i Helsingfors.
Resultatet visade att företag allt mer bör tänka på sin image och sitt brand angående utveckling och samhällsansvar eftersom det idag mer eller mindre krävs att företag är ansvarsfulla. Det krävs konkreta bevis för positiv utveckling och informationen skall vara framställd så att kunderna enkelt kan ta del av den. Bäst görs detta genom att anlita en opartisk utomstående person, t.ex. konsultföretag. Genom ett hårt arbete blir företagsbilden mer ansvarsfull och miljövänlig vilket fungerar som konkurrenskraft. I fortsättningen kommer företaget att utföra en kvantitativ kundundersökning att göras för att mer konkret börja uppdatera sidorna. Företaget uppmuntras att mer synligt delta i olika projekt, kvalitetstävlingar mm. för att få mer positiv publicitet
The aim is to research about the opportunities Viking Line has to develop its corporate image regarding sustainable development and corporate social responsibility, at its Finnish websites. The idea is to clearly find out what kind of information should be published on the company's environmental websites for the best possible presentation of the work being done for sustainable development and corporate social responsibility. Another aim is to explain how the company can update its corporate image and brand to be more responsible and environmentally friendly. The work has been limited to deal with the corporate image of the Finnish society. Viking Line works hard for the sustainable development, but the company feels that the information about their work does not reach their customers.
The theory deals with image and branding, sustainable development, corporate social responsibility and e-marketing with a focus on websites. The study was made as a qualitative study using a semi-structured interview guide. Respondents consisted of specialists in either companies' environmental work, or corporate websites. The interviews were performed in Helsinki.
The results showed that companies increasingly have to work on their image regarding sustainable development and social responsibility as customers today require that companies are responsible. Today companies need more concrete evidence of the positive developments and the information must be made so that customers can easily take part of it. The best way to do this is with an impartial outsider's help. As a continuation, a quantitative customer survey will be performed and Viking Line can start updating their pages based on these two studies. The company is encouraged to more visibly be involved in various projects, take part of quality competitions etc. to increase publicity.
Kokoelmat