Vårdarnas människosyn och uppfattning om god vård
Blomberg, Anne-Marie; Streng, Johanna (2011)
---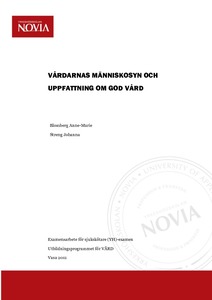 Blomberg, Anne-Marie
Streng, Johanna
Yrkeshögskolan Novia
2011
All rights reserved
Julkaisun pysyvä osoite on
https://urn.fi/URN:NBN:fi:amk-201104285054
Tiivistelmä
Sammanfattning
I detta examensarbete har undersökts vad vårdare avser med god vård och hur deras människosyn påverkar deras vårdande. Detta för att upptäcka eventuella skillnader mellan vårdare som kunde bero på hennes/hans etnicitet, bakgrund och utbildning och för att finna likheter som bekräftar att vårdarna arbetar mot ett gemensamt mål; en trygg äldrevård. Frågorna respondenterna sökte svar på är: 1) Vad innebär god vård av äldre? Och 2) på vilket sätt avspeglar sig människosyn i vården av äldre? Studien är gjord med hjälp av enkätundersökning där både slutna och öppna svarsalternativ ingår. Den kvalitativa delen är analyserad genom innehållsanalys och den kvantitativa delen har presenterats med stapeldiagram. Studien är baserad på 25 vårdares svar och är utförd på två bäddavdelningar.
Undersökningen resulterade i sju huvudkategorier, nämligen människosyn, god vård, fysiska behov, psykiska behov, sociala behov, andliga behov samt motivation.
Det visade sig att utbildningsnivån samt antalet tjänsteår hade ett visst samband för vad informanterna ansåg vara god vård samt hur dessa påverkade deras människosyn och vårdhandlingar. Närvårdarna i undersökningen lyfte fram grundvården som en viktig del i god vård, medan sjukskötarna poängterade individualitet, professionalitet, välbefinnande, helhetssyn och optimal smärtlindring. Vad gäller människosynen kan man se en klar skillnad i hur tankarna kring människosynen förändras och fördjupas ju längre man arbetat. Sjukskötarnas människosyn präglas av respekt för den äldre. De poängterar människovärdet och patientens rätt till god vård och en värdig död.
Summary
In this bachelor's thesis we analyze what nurses mean with good care and how their view on the human being affects their caring activities. This to detect potential differences among nurses, which could be due to their ethnicity, background or education, and to find similarities that would verify that nurses work for a common goal: a safe elderly care. The questions that the respondents sought answers to are the following: 1) What is meant by good elderly care? and 2) In which way is the view on the human being reflected in the elderly care? The study is done with the help of a questionnaire, with both open and closed alternatives. The qualitative part is analyzed with a content analysis and the quantitative part is presented in a bar chart. The study is based on the answers of 25 nurses and it is done at two inpatient departments.
The study resulted in 7 main categories, namely the view of the human being, good care, physical needs, mental needs, social needs, spiritual needs and motivation.
The study showed that the level of education and the amount of years of service had a certain impact on what the informants meant by good care and on how this affected their view of the human being and their caring activities. The practical nurses in the study pointed out basic care as an important part of good care, while the nurses emphasized individuality, professionalism, well-being, a holistic view and optimal pain relief. What concerns the view of the human being, a distinct difference can be seen in how the thoughts on this are changed and deepened the longer the nurses have been working. The nurses' view of the human being is characterized by respect for the elderly. They emphasize human dignity and the right of the patient to a good care and a death in a dignified manner.
Kokoelmat