En studie i dramatisk akrobatik : tillämpning av akrobatik i teater
Johansson, Julia (2011)
---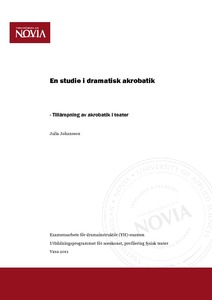 Yrkeshögskolan Novia
2011
All rights reserved
Julkaisun pysyvä osoite on
http://urn.fi/URN:NBN:fi:amk-201105045956
Tiivistelmä
Akrobatik är ett vitt begrepp, det kan stå både för en sportgren och en konstform och dess utövare finns bl.a. inom cirkuskonsten och teatern.
Jag har undersökt den dramatiska användningen av akrobatik inom teaterkonsten, vad akrobatik har för betydelse och vad den tillför teatern.
Jag har även velat klargöra vad akrobatik kan ge en skådespelare och på vilket
sätt man kan träna akrobatik i syfte att senare använda det på scen.
Tillämpningen av akrobatik på teaterscenen kräver mycket förberedelse och träning, men det är ett mångsidigt uttryckssätt, som ger en skådespelare möjlighet till kreativt arbete och till att använda ett av rörelse färgat scenspråk. Det är ett kraftfullt och användbart scenuttryck, som jag anser att kan omvandlas till skådespeleri.
Genom akrobatiken kan man uttrycka känslor, berätta något på ett mera abstrakt sätt men även gestalta en konkret handling. Det finns många träningsmetoder och sätt att använda akrobatik dramatiskt. Det viktiga är att hitta en metod som passar en själv eftersom den egna kroppen är verktyget.
Att använda sig av akrobatik inom teaterkonsten innebär att testa sina och konstformens gränser.
Det här är en skildring av mina val, var jag har hittat inspiration och vägledning i arbetet med akrobatik. Hela min utbildning i fysisk teater, studierna i dramatisk akrobatik, har fungerat som underlag för det här arbetet men jag har fokuserat på hur jag arbetade med akrobatik i mitt konstnärliga slutarbete.
Acrobatics is a wide concept, since it is both a sport and an art form and practised by a wide range of people. Acrobatics as an art form can for example be its use in the theatre. I have explored the dramatic use of acrobatics, what acrobatics can stand for and what acrobatics can bring to the theatre. I have also attempted to clarify what acrobatics can give to an actor and how to train acrobatics for the purpose of bringing it to a theatre stage.
Although the application of acrobatics for the theatre needs a lot of preparation and training, it is a craft that gives an actor the opportunity to introduce creative work and a wide range of expression on stage. In other words, it is a powerful and useful artform that according to me can be transformed and used in interpretation: it can express emotions, it can portray something in a more abstract way and it can also stand for a concrete action.
In the end, how you choose to train acrobatics, which technique you follow and in what way you want to use acrobatics in a dramatic way is a personal decision. This is because acrobatics stretches one's limits and the tool is the body. This final project presents my decisions, where I have found inspiration and guidance in my work with acrobatics. Although the base for this work has been my education in physical theatre with its studies in dramatic acrobatics but I have focused on how I worked with acrobatics in my artistic examination.
Kokoelmat