Kvinnans upplevelser under tredje trimestern av sin första graviditet
Oscarsson, Nathalie (2011)
---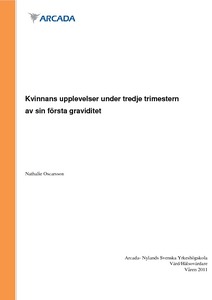 Arcada - Nylands svenska yrkeshögskola
2011
All rights reserved
Julkaisun pysyvä osoite on
http://urn.fi/URN:NBN:fi:amk-201105127578
Tiivistelmä
Syftet med studien var att nå en djupare förståelse i hur kvinnan upplever sin första graviditet. Det teoretiska perspektivet var Katie Erikssons ontologiska hälsomodell där "hälsa som görande- varande-vardande" har används.
Designen är kvalitativ och som metod har innehållsanalys används. Materialet består av fem böcker, där kvinnor skriver om sina upplevelser om graviditeten.
Frågeställning:
Hur upplever kvinnan slutskedet av sin första graviditet?
Studien är deduktiv i avseende att "hälsa som görande-varande-vardande" har varit de sökta huvudkategorierna. Materialet granskades i huvudsak manifest, det vill säga att det togs fasta på det som uttrycktes tydligt i texten men även den latenta analysmetoden användes då respondenten ville presentera olika valmöjligheter ur de undangömda budskapen som kunde tolkas ur berättelserna.
Av materialet och vid tolkningen av citat framgick det att kvinnan under första graviditeten går igenom en stor livsförändring och självutveckling. Graviditeten präglas av delade upplevelser, där det framkom både positiva och negativa känslor. När man känner till de tankar och upplevelser den gravida kvinnan har kan man utnyttja den i vårdarbetet för att på bästa möjliga vis kunna bemöta och stöda den gravida kvinnan.
The purpose of the study was to get a deeper understanding in how women experience their first pregnancy. The theoretical perspective was Katie Erikssons ontological health model where "health as doing- being" has been used.
The design is qualitative and as the method has content analysis been used. The material consists of five books where women write about their experiences of pregnancy.
The main question:
How do women experience the final stage of their first pregnancy?
The study is deductive from the point of view that "health as doing- being" has been the searched main categories. The material was mainly analyzed manifest, i.e. those things in the text which clearly aroused was used, but also the latent analysis was used when the respondent wanted to introduce different choices from the hidden messages that could be interpreted from the biographies.
From the material and during the interpreting of the quotations it became known that women are going through a big life change and self-development during their first pregnancy. Pregnancy is filled with divided experiences where both positive and negative feelings were emerged. When you are aware of the thoughts and experiences the pregnant women have you can impose it in your healthcare work so that you can answer and support the pregnant women in the best possible way.
Kokoelmat