Att växa upp i en alkoholistfamilj : - en teoretisk studie av att vara medberoende till en alkoholberoende förälder
Häggqvist, Lena (2011)
---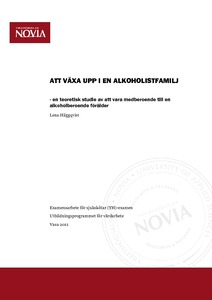 Yrkeshögskolan Novia
2011
All rights reserved
Julkaisun pysyvä osoite on
http://urn.fi/URN:NBN:fi:amk-201105035863
Tiivistelmä
Syftet med denna studie är att genom en teoretisk kvalitativ litteraturstudie undersöka barnets upplevelse av att vara medberoende till en alkoholberoende förälder. Forskningsfrågorna som jag vill ha svar på är: Hur påverkas barn av att växa upp i en alkoholistfamilj? Hurudant lidande utsätts barn för som växer upp i en alkoholistfamilj? och Hur kan man främja den psykosociala utvecklingen och den mentala hälsan hos barn som växer upp i en alkoholistfamilj?
Datainsamlingsmetoden är dokumentstudier. Som dataanalysmetod har jag valt att använda resuméartikel, för att få en överskådlig bild av artiklarna. Resultatet analyseras enligt innehållsanalys. De teoretiska utgångspunkterna är Erikssons (1994) och Wiklunds (2000 och 2003) tankar om lidandet. Den teoretiska bakgrunden presenterar fakta om alkoholism och vad detta innebär, hur alkoholen påverkar kroppen, alkoholens effekter på familjen samt barnets psykosociala utveckling och hälsa.
Resultatet är en resuméartikel över de vetenskapliga forskningsartiklarna som använts. Syfte, metod och resultat presenteras överskådligt. I resultatredovisningen framkommer att alkoholism i familjen påverkar barnets uppväxt på ett negativt sätt. I familjer där det förekommer ett alkoholmissbruk påverkar det hela familjen och har en märkbar inverkan på livskvaliteten. Barnet utsätts för olika typer av lidande, främst för livslidande och vårdlidande. Man kan genom familjeintervention, terapi och stödgrupper främja den mentala och psykosociala utvecklingen hos barnen som växer upp i en alkoholistfamilj.
The aim of this thesis was to determine, through a theoretical qualitative study of literature, the child's view on being codependent with an alcoholic parent. My research questions were the following: How is a child affected by growing up in an alcoholic family? What kind of suffering is the child put through growing up in an alcoholic family? How can one promote the psychosocial development and the mental health of children growing up in alcoholic families?
The data was collected through document studies. The method of data analysis that I chose to use was a review article, in order to get a coherent overview of the articles. The analysis of the result was done with the help of content analysis. The theoretical starting-points are Eriksson's (1994) and Wiklund's (2000 and 2003) theories on suffering. The theoretical background presents facts about alcoholism and its consequences, how alcohol affects the body, and the effects alcohol has on the family and on the child's psychosocial development and health.
The result is a review article that presents the scientific research articles that have been used. The aim, method and results are clearly outlined. The results of the content analysis show that alcoholism affects the child's development in a negative way. The whole family is affected by the alcohol abuse and this has a significant effect on their quality of life. The child is put through different types of suffering, mostly life suffering and care suffering. Through family intervention, therapy and support groups one can promote the mental and psychosocial development of the child that grows up in an alcoholic family.
Kokoelmat