Ungdomars psykosociala hälsa - stress, mobbning och riskbeteende : En teoretisk studie
Järvinen, Anna; Pynnönen, Maria; Lillthors, Emily (2011)
---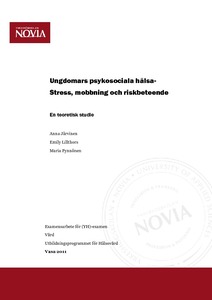 Järvinen, Anna
Pynnönen, Maria
Lillthors, Emily
Yrkeshögskolan Novia
2011
All rights reserved
Julkaisun pysyvä osoite on
http://urn.fi/URN:NBN:fi:amk-201105066446
Tiivistelmä
Syftet med denna studie var att skapa en bild av den psykosociala hälsan begränsat till stress, mobbning och riskbeteende hos ungdomar. Fråge- ställningarna var: 1. Hur beskrivs stress, mobbning och riskbeteende i litteraturen? 2. Hur påverkar stress, mobbning och riskbeteende den ungas psykosociala hälsa utgående från tidigare forskning? 3. Hur avspeglar sig vårt arbete mot KLUCK 2-projektets resultat? Tredje frågeställningen besvaras i respondenternas utvecklingsarbete.
Datainsamlingen genomfördes som dokumentstudier och innehållsanalys användes som dataanalysmetod. De tidigare forskningarna sammanställdes och presenteras i en översiktsartikel. Som teoretiska utgångspunkter användes Lindholms (1998) modell om ungdomsåren, Erikssons (1996) teori om hälsan och Antonovskys (1991) teori om känsla av sammanhang.
Resultaten framställs i kategorier. Kategorierna för stress var könsrelaterat, psykosomatiska symptom och skolprestationer. Resultaten för mobbning indelas i mobbare och offer. För riskbeteende framkom kategorierna rökning och alkohol. Depression, självmord och självmordstankar var återkommande resultat av stress, mobbning och riskbeteende.
The purpose of this study was to form a perception of psychosocial health among adolescents, with focus on stress, bullying and risk behavior. The research questions were: 1. How are stress, bullying and risk behavior described in the literature? 2. How do stress, bullying and risk behavior affect the psychosocial health according to previous research? 3. How do our results reflect the results of the KLUCK 2 research? Our third research question is answered in the authors' expert knowledge project in public health nursing.
The data was collected through document studies and were analyzed with the help of content analysis. Previous studies were put together and are presented in an review article. The theoretical framework consisted of Lindholm's (1998) model of youth, Eriksson's (1996) view on health and Antonovsky's (1991) view on sense of coherence.
The results are presented in categories. The categories for stress are gender- specific issues, psychosomatic symptoms and school achievements. The results for bullying are categorized into bullies and victims. For risk behavior the categories are smoking and alcohol. Depression, suicide and thoughts about suicide were frequent results of stress, bullying and risk behavior.
Kokoelmat