SIMRAF - simuleringsprogram för implementering av mikroregenerativa applikationer i fastigheter
Björk, Mathias; Inborr, Dan (2011)
---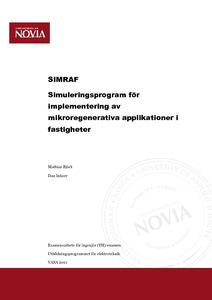 Björk, Mathias
Inborr, Dan
Yrkeshögskolan Novia
2011
All rights reserved
Julkaisun pysyvä osoite on
http://urn.fi/URN:NBN:fi:amk-201105167990
Tiivistelmä
Forsknings och utvecklingsprojektet Manage Smart in SmartGrid är ett treårigt projekt som utforskar vilka möjligheter "Advanced Metering reading Management" (AMM) kan ge för att förbättra energiförvaltning i både privata hem och offentliga byggnader. Genom projektets forskningsarbete skall det etableras en detaljerad förståelse för hur detta kan möjliggöras och vilka möjligheter som kan utnyttjas till fördel för både förbrukare, leverantörer samt för miljön. Projektet utförs av "Norwegian Centre of Expertise (NCE) Energy and Emissions Trading Halden" med stöd av "Norges Forskningsråd (NFR)" och projektet ägs av Tieto och NCE Halden.
Detta lärdomsprov omfattar skapande av ett simuleringsprogram för dessa fastigheter med vikt på energiförvaltning och ekonomi, samt en utvärdering av resultaten från utförda simuleringar. Dessa fastigheter implementeras med AMM-teknologi samt mikroregenerativa applikationer såsom vindkraftverk, solceller och "Micro Combined Heat and Power Plants" (µCHP).
Resultatet av detta lärdomsprov är ett simuleringsprogram samt simuleringar utförda med olika inställningsparametrar. Utifrån dessa resultat konstateras det att det är lönsammare att investera i vindkraftverk i norra Norge än i södra Norge. Det är också lönsammare att investera i mikroregenerativa applikationer i äldre och större fastigheter än i små och nya fastigheter.
Manage Smart in SmartGrid is a three year long research and development project. This project explores the possibilities of energy management when implementing Advanced Metering reading Management (AMM) in private households and public facilities. By means of this project research, a detailed understanding will be established of how the AMM can be enabled and the possibilities with it. These possibilities can be exploited to benefit both the customers, the suppliers and the environment. This project is run by "Norwegian Centre of Expertise (NCE) Energy and Emissions Trading Halden" and supported by "The Research Council of Norway (NFR)". The project is owned by Tieto and NCE Halden.
This Bachelor's thesis comprises the creation of simulation program for the type of buildings described above. The thesis work focuses on the energy management and an evaluation of the results from the executed simulations is presented. The facilities are implemented with the AMM technology and with micro regenerative applications such as solar cells, wind mills and "Micro Combined Heat and Power Plants (µCHP)".
A simulation program was created and our results come from simulations with different parameters. The results prove that it is more profitable to invest in wind mills that produce electricity in Northern Norway than in southern Norway. It will also be more profitable to invest and implement micro regenerative applications in larger and older facilities than in small new homes.
Kokoelmat