Historik över Ekenäs BB
Eriksson, Pamela (2011)
---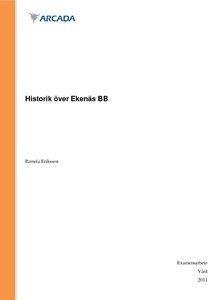 Arcada - Nylands svenska yrkeshögskola
2011
All rights reserved
Julkaisun pysyvä osoite on
https://urn.fi/URN:NBN:fi:amk-201105127666
Tiivistelmä
Sammandrag:
Syftet med den här studien är att göra en historik över Ekenäs BB. Betoningen i arbetet kommer att ligga på förlossningsvårdens utveckling i tiden. De centrala frågeställningarna i arbetet är: Hur såg förlossningsvården ut på Ekenäs BB? Har förlossningsvården förändrats? Vilka år utgjorde viktiga utvecklingsstolpar på förlossningsenheten?
Metoden som används i studien är historisk metod. Barnmorskans etiska kod används som teoretisk referensram.
Ekenäs BB införlivades med stadens sjukhus år 1934 efter att sedan av början av 1900-talet varit privat verksamhet för olika barnmorskor. Under krigen 1939-1944 evakuerades förlossningsenheten flera gånger till olika skolor i grannkommunerna. Barnmorskan skötte då i många fall förlossningarna helt ensam eftersom läkaren som tillkallades endast vid behov kunde vara på långt avstånd. Ekenäs BB var en föregångare i sin tid i Finland vad beträffar den naturliga förlossningsvården. På 1980-talet utvecklades en egen förlossningsstrategi efter att barnmorskor från Ekenäs inlett ett samarbete med ett sjukhus i Ystad, Sverige. Metoden kombinerar naturlig förlossningsvård med det senaste medicinska. Många kvinnor utanför regionen, och till och med föderskor från Ryssland intresserade sig för användandet av naturliga smärtlindringsmetoder i t.ex form av akupunktur och zonterapi. År 1996 fick Ekenäs BB som första sjukhus i Finland Baby Friendly Certifikat, vilket betyder att sjukhuset var amningsvänligt. Ekenäs BB var många gånger nedläggningshotat och den 31.5.2010 lades förlossningsenheten ned efter beslut av styrelsen i HNS.
Abstract:
The aim of this study is to write a chronicle of the maternity hospital in Ekenäs. The emphasis will be on the development of maternity care. The central questions are: How was the maternity care in Ekenäs maternity hospital? Has the maternity care changed? Which years were the most remarkable milestones regarding the development of maternity care for the unit in Ekenäs?
The historical method will be used in this study. Codes of Ethics for midwives are used as the frame of reference.
From the early 20th century the maternity care was run by private midwives, but was incorporated with the town's hospital in 1934. During the years of war 1939-1944 the maternity care unit was evacuated to schools in different neighbouring municipalities. In many cases the midwife took care of the deliveries by herself since the doctor could be far away and was contacted only when necessary. The maternity care unit in Ekenäs was a forerunner in its time in Finland regarding the natural maternity care. In the 1980s the maternity hospital in Ekenäs developed its own strategy after cooperation with a hospital in Ystad, Sweden. The method combines natural maternity care with the latest medical methods. Many women outside the region, even as far as Russia, were interested in using the natural methods of pain alleviation such as acupuncture and zone therapy. In 1996 the maternity hospital in Ekenäs was the first hospital in Finland to receive the baby Friendly Certificate, meaning that the hospital for example encourages breastfeeding. The maternity hospital in Ekenäs was threatened with closure many times and on 31.5. 2010 the maternity care unit was closed down after a decision made by the management in HNS.
Kokoelmat