Förstföderskors upplevelser av barnrådgivning
Järvinen, Anna-Maria (2011)
---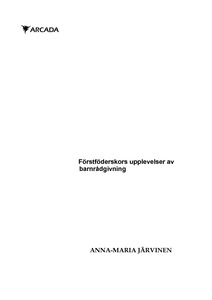 Arcada - Nylands svenska yrkeshögskola
2011
All rights reserved
Julkaisun pysyvä osoite on
https://urn.fi/URN:NBN:fi:amk-201105127695
Tiivistelmä
Barnrådgivningsverksamheten är en del av grundhälsovården i Finland. Den är gratis och tillgänglig för alla. Tidigare forskning, såväl inhemsk som utländsk, visar att hälsovårdarens viktigaste uppgift på barnrådgivningen är att stöda den nyblivna mamman i sitt moderskap. Tidigare forskning visar på att mammor har upplevt att stödet från vårdinstanser är bristfälligt.
Syftet med detta arbete är att få reda på hur förstföderskor upplever barnrådgivningen. Frågeställningarna är "hurudana upplevelser har förstföderskor av barnrådgivningen?", "vad är bra med besöken?" och "vad kunde förbättras?" Som teoretisk referensram fungerar Erikssons (1995) ontologiska hälsomodell, dvs hälsa som görande, varande, och vardande.
Som datainsamlingsmetod användes en kvalitativ internetundersökning. Mammor besvarade frågor på fyra inhemska diskussionsforum. Som analysmetod användes induktiv innehållsanalys. Resultatet blev mångfacetterat. Hälsovårdaren upplevs skapa trivsel och vara respekterande, samtidigt som hon upplevs behöva bli mer kompetent och förbättra sin inställning. Själva rådgivningsverksaheten upplevs tillfredställande men skulle behöva mer kapacitet. Resultatet visar på motstridiga upplevelser och indikerar utvecklande av verksamheten för att kunna upprätthålla och främja familjers hälsa.
Child health care is a part of the primary healt care system in Finland. It is free of charge and available for all families. Research made in Finland and other countries imply that the child health nurse plays an importaint part in supporting new mothers in their parenthood. According to research many mothers have been unsatisfied with the care and support from health care professionals.
The aim of this study is to find out first-time mothers experiences of child healt care. The Research questions are "what kind of experiences do first-time mothers have of child healt care?", "what is good about it?" and "what would they improve?" Eriksson's (1995) theory of healt as doing, being and becoming is used as background theory.
The method that was used is a qualitative internet survey. Mothers got to answer questions on four discussion pages on the internet. Data was analysed with an inductive content analysis. The result had many dimensions. Mothers experienced that the child health nurse made the child health clinic a nice place to go to and that she showed respect towards them. On the other hand mothers experienced lack of competence in their nurses. Mothers also felt the nurses could improve their attitude towards them. The child healt care is experienced as satisfying, but in need of more capasity. The result shows both satisfaction and unsatisfaction. The result implies a need of development in the system to be able to maintain health within finnish families.
Kokoelmat