Den moderna människan som ett simulacrum i historisk film : En analys av filmen 300
Nystedt, Matias (2011)
---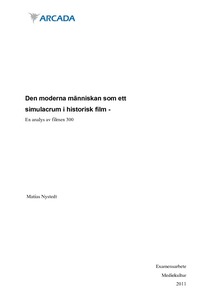 Arcada - Nylands svenska yrkeshögskola
2011
All rights reserved
Julkaisun pysyvä osoite on
http://urn.fi/URN:NBN:fi:amk-201105137752
Tiivistelmä
Arbetets tema är hur man framställer karaktärer i historisk fiktionsfilm. Syftet är att analysera om karaktärerna i filmen 300 (2006), som är baserad på slaget vid Thermopyle, framställs som moderna människor trots att filmen utspelas i en förmodern värld och ifall detta framkallar ett simulacrum, med andra ord en kopia av en bild som inte har någon basis i verkligheten. Jag analyserar karaktärerna med hjälp av en tabell som definierar tillits- och riskmiljöer i förmoderna och moderna samhällen ur ett sociologiskt perspektiv. Jag antar i mitt arbete att Herodotus har skrivit den version av den historiska händelsen som mest motsvarar sanningen. Med hjälp av denna tabell analyserar jag vissa
nyckelscener i filmen som jag själv valt ut. Jag tittar på karaktärernas beteende och dialog i scenen och placerar in det i tabellen. Jag analyserar inte filmens tekniska eller dramaturgiska kvalitet och analyserar inte heller alla karaktärer eller scener i filmen. Resultatet i analysen visar att protagonisterna i filmen framställs som moderna människor medan antagonisterna framställs som förmoderna. Filmen framställer på sätt och vis ett simulacrum i och med att karaktärernas syften i filmen inte är baserade på den tid som filmen är baserad på.
The subject of the thesis is the portrayal of the characters in a historical film. The aim is
to analyze if the characters in the film 300 (2006), which is based on the battle of Thermopylae,
are portrayed as modern people even though the film is set in premodern times.
Furthermore, I will analyze if this means that the film portrays a simulacrum, a copy of
an image without any relation to reality. With the help of a chart that defines the trust and
risk environments in premodern and modern societies, I will analyze the characters from
a sociological perspective. I base my analysis on the assumption that Herodotos' version
of this historical event is the most accurate one. I will conduct my analysis on a few key
scenes of the film that I have chosen myself. I will pay close attention to the characters
behavior and dialog and place it in the chart. I will not analyze the technical or dramaturgical
qualities of the film nor will I analyze all characters or scenes.
The result shows that the film portrays the protagonists as modern people and the antagonists
as premodern. In a way the film portrays a simulacrum in that the characters' aims
in the film do not in any way reflect the time the film is set in.
Kokoelmat