Tillverkning av uttagningsstöd för tryckgjutna tvättställ med hjälp av CAD/CAM-metoder
Stor, Charlotte (2011)
---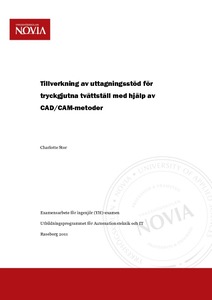 Yrkeshögskolan Novia
2011
All rights reserved
Julkaisun pysyvä osoite on
http://urn.fi/URN:NBN:fi:amk-201104274937
Tiivistelmä
Datorstyrd tillverkning är ett begrepp som blir allt mer omfattande. Tillverkningsindustrin uppskattar att man idag snabbt kan modellera en ny produkt i tre dimensioner och att tillverkningsmetoderna blir både fler och förmånligare. Detta
har möjliggjorts med CAD- och CAM-metodernas framfart.Syftet med detta examensarbete är att beskriva hur man övergår från manuell tillverkning av en produkt till datorstyrd tillverkning. Produkten i detta fall är ett uttagningsstöd som har en stödfunktion på produktionslinjen av tvättställ i IDO Badrums fabrik. Det tillverkade stödet kommer att fungera som en första prototyp och utvecklingen av stöden kommer att fortsätta på IDO.
Konstruktionen av stödet gjordes i CAD-programvaran Creo Elements/Pro, där konstruktionen slutligen testades i ett montage där produktionslinjens alla väsentliga delar ingick. Stödet kommer sedan att fräsas ut av företag som erbjuder CNC-frästjänster. Ett lämpligt material valdes utgående från rekommendationer av både anställda på IDO och CNC- fräsfirmor.
Resultatet av det konstruerade stödet motsvarade förväntningarna, även om tidsramen för examensarbetet omöjliggjorde en fysisk testning av stödet. Examensarbetet innefattar konstruktion, materialval, undersökning av olika rapid prototyping-tillverkningsmetoder, kontakttagande till CNC-fräsföretag, offertförfrågning samt beställning.
Computer Aided Manufacturing (CAM) is a term that is becoming more and more extensive. Manufacturing industries appreciate that we today can model a new product fast and that the manufacturing methods become cheaper and more diverse.
This has become possible thanks to the advance of CAD and CAM methods. The purpose of this thesis is to describe the transition from manual manufacturing of a product to computer-aided manufacturing. The product in this case is a demoulding jig device that serves as a support in the production line of wash basins at the IDO Bathroom factory.
The design of the support was done in the CAD software Creo Elements/Pro where the design was finally tested in an assembly, where all the essential parts of the production line were included. The jig device will be milled by a company that offers CNC milling services. A suitable material was chosen according to recommendations from employees at both IDO and CNC milling companies.
The result of the designed jig device met the expectations, even if the deadline of the thesis made it impossible to physically test the device. This thesis includes design,
choice of material, research of different rapid prototyping methods, contacting of CNC milling companies, request for quotation and an order.
Kokoelmat