Metoder att minska nattströmsbelastningstoppar
Gustafsson, Victor (2011)
---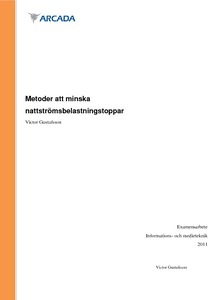 Arcada - Nylands svenska yrkeshögskola
2011
All rights reserved
Julkaisun pysyvä osoite on
http://urn.fi/URN:NBN:fi:amk-201105259609
Tiivistelmä
Syftet med examensarbetet var att analysera olika metoder för att styra påslagningen av nattström, för att minska belastningstoppen som uppstår när alla eluppvärmda hushåll slår på sin elvärme samma minut. När nattströmmen slår på i de eluppvärmda husen och den magasinerande golvvärmen och varmvattenberedaren kopplas på, så bildas det en belastningstopp. Den här belastningstoppen sker inom ett så kort intervall att elproducenterna inte hinner öka effekten i stamnätet i samma takt.
Mera eller mindre invecklade metoder för att minska den här belastningstoppen har analyserats. Enklare möjligheter för att styra nattströmmen som att använda ett tidrelä eller ett motstånd som fördröjning är billiga och pålitliga, medan mera invecklade metoder som att ha nattströmsstyrning med radio- eller GSM-mottagare och -sändare, ger mera möjligheter, men är mera komplicerade och dyrare.
Det har också analyserats hur det skulle påverka elförbrukningen om man skulle få elräkningen baserad på mätning i realtid, så att priset skulle ändra enligt efterfrågan på elektricitet. Hur det skulle påverka konsumenternas beteende undersöks, samt vad man kunde göra för att göra det bekvämare för konsumenterna att de inte hela tiden behöver följa med elpriset.
Nya alternativ såsom mer utvecklad automation i elsystemen har också undersökts. Slutligen jämförs och utvärderas alternativen tekniskt och ekonomiskt.
The purpose of this study was to analyze different methods to control the turning on of the night power, to reduce the peak that occurs when all turn on their heating in the same minute. When the power turns on at night in all electrically heated houses, and the under-floor heating in thermal mass and the water heater switch on, it produces a peak in the electrical grid. This peak occurs within a short interval so the power generators do not have time to increase the effect of the grid to avoid power cuts.
More or less complex methods to reduce this peak have been analyzed. Simple methods to control the night power by putting a timer or a resistance that delays are cheap and re-liable, while more complicated methods that have the night power regulated with radio or GSM receivers and transmitters give more opportunities, but are more complicated and more expensive.
Further analysis discusses how it would affect consumption if people would get their electricity bill based on real time measurement, so that the price would change according to the demand for electricity, how this would affect consumer behavior, and what could be done to make it more convenient for consumers, so they do not always need to keep up with the price of electricity.
New alternatives such as more advanced automation in the electrical systems have also been examined. Finally the alternatives are compared and evaluated technically and economically.
Kokoelmat