Analysis of a power conversion system for a wave energy converter
Van der Meeren, David (2011)
---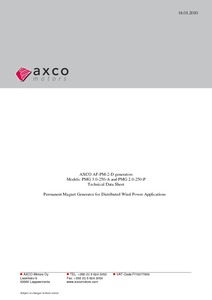 Tampereen ammattikorkeakoulu
2011
All rights reserved
Julkaisun pysyvä osoite on
http://urn.fi/URN:NBN:fi:amk-2011052710039
Tiivistelmä
In this thesis the energy conversion of a Wave Energy Converter is analysed. To start there is an introduction about wave energy and a short presentation of the project. Throughout the project a permanent magnet generator, powered by a floating buoy, is used. A test setup is made to simulate the incoming movement on the generator with an electric motor. The theoretic values of the generator are tested with reality based on several measurements. The problem with generating energy in this manner is that the axis of the generator stops on the moment that the buoy is on the maximum and minimum of the wave. This results in an irregularly generated voltage with dips.
In this thesis it is researched how this irregular voltage can be smoothened without using a (super) capacitor. A study is made of an electronic circuit of a Boost Converter to solve this problem. These results were used to make PSpice simulations in OrCAD in order to analyse the function and feasibility of this project.
To conclude, the Boost Converter can indeed show an improvement but, in combination with a flywheel on the axis and a smaller capacitor the best results will most likely be achieved. However, this requires further investigation.
In deze thesis wordt de energie omzetting van een Wave Energy Converter bestudeerd. Er wordt gestart met een inleiding over golfslagenergie, waarna kort het project wordt voorgesteld. In het project wordt gebruik gemaakt van een roterende permanente magneet generator aangedreven door een drijvende boei. Een testopstelling is gemaakt om de inkomende beweging op de generator te simuleren met een motor. De theoretische waarden van de generator worden getoetst aan de realiteit aan de hand van enkele metingen. Het probleem bij het opwekken van energie op deze manier is dat de generator as stil staat op het moment dat de boei op het hoogte-en dieptepunt van de golf is. Dit resulteert in een onregelmatige gegenereerde spanning met dips.
In deze thesis wordt bestudeerd hoe deze spanning kan afgevlakt worden zonder gebruik te maken van een (super)condensator. Er is een studie gemaakt van een elektronische schakeling van een Boost Converter om dit probleem op te lossen. Hiervan werden in OrCAD PSpice simulaties gemaakt om de werking en haalbaarheid te onderzoeken.
Als besluit wordt gesteld dat de Boost Converter wel degelijk een verbetering kan zijn, maar gecombineerd met een vliegwiel op de as en een (kleinere) condensator worden wellicht de beste resultaten bereikt. Hiervoor is echter verder onderzoek vereist.
Kokoelmat