Granskning av drivningskvalitet på Kustens skogscentrals område åren 2008-2010.
Kanerva, Malin (2011)
---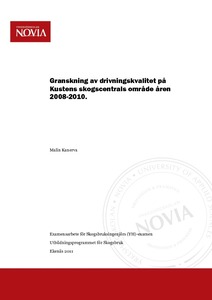 Yrkeshögskolan Novia
2011
All rights reserved
Julkaisun pysyvä osoite on
http://urn.fi/URN:NBN:fi:amk-2011061411991
Tiivistelmä
Då det kvarblivande beståndet skadas vid gallring kan det leda till tillväxtförluster, kvalitetsförluster samt sekundärskador. Finska skogslagen ställer inga konkreta krav på skademängden. I skogscertifieringskraven är det däremot sagt att skador på stammen samt roten totalt får vara 4 %, det ställs även en gräns på spårbildningen som högst får vara 4 %.
Vid en del av skogscentralerna har det varit problem att klara certifieringskriterierna, bl.a. vid Kustens skogscentral. Syftet med detta arbete är att utreda vilka faktorer som påverkar drivningskvaliteten vid både vanliga drivningar samt energivedsdrivningar, vad det är som ligger bakom problemen, och vad man bör göra för att förbättra situationen, samt utreda om det finns regionala skillnader.
Granskningsrapporterna har jag fått från Kustens skogscentral. Materialet har matats in i Excel och sedan flyttats över till SPSS Statistics för analysering.
Resultatet visar att det är ett antal olika faktorer som påverkar drivningskvaliteten, bl.a. förhandsröjning, drivningsplanering, drivningsutförarens erfarenhet och motivation samt uttaget. Resultatet visar även att det finns regionala skillnader, men de är inte entydiga.
When the remaining stands are damaged during the thinning, it can lead to growth loss, quality loss and secondary damages. The Finnish forestry law does not set any concrete requirements on the allowed amount of injury. However, the forest certificate system sets demands on the amount of injuries, the injuries on the tree trunk and roots combined have to be fewer than 4 %, and the rutting in the ground has to be less than 4 %. In some Forestry centers there have been problems to meet the requirements, including the Kustens skogscentral. The purpose of this thesis is to investigate which factors influence the harvest quality in both regular and energy harvests, which are the reasons behind the problem, what should be done to improve the situation and to investigate if there are any regional differences.
The inspection reports were provided by Kustens skogscentral. The data from the material has been entered into Excel and then been transferred to SPSS Statistics for analyzing.
The results show that there are several factors that have an impact on the harvest quality, some of these factors are; pre-thinning, harvest planning, the harvester operator's experience and motivation, and the timber removal. The results also show that there are some regional differences, but they are not unambiguous.
Kokoelmat