Älgavskjutningen på Hangöudd : En studie om regleringen av älgstammen
Lundqvist, David (2011)
---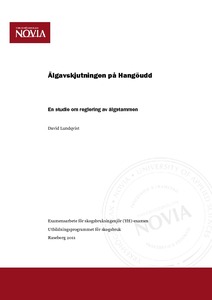 Yrkeshögskolan Novia
2011
All rights reserved
Julkaisun pysyvä osoite on
http://urn.fi/URN:NBN:fi:amk-2011061412029
Tiivistelmä
Under en längre period har man kunnat se älgpopulationen försvagas kraftigt på Hangöudd. Det innebär inte enbart att populationen har minskat, utan också att älgens egenskaper som reproduktion, hornuppsättning och totalvikt som styrs av gener och livsmiljöer kraftigt har avtagit. Examensarbetet handlar om hur älgavskjutningen har utförts på Hangöudd under åren 1990 till 2010 och hur markräkningen har utförts under samma tidsperiod.
Med undersökningen ville jag få fram hur avskjutningen har inverkat på älgstammens utveckling samt granskat markräkningens tillförlitlighet. Också andra faktorer som kan antas ha påverkat älgstammen behandlas. Som hjälp för att tolka mina resultat har tidigare undersökningar om hur älgstammen bör förvaltas använts. Jaktvårdsdistriktet samt av lokala jaktlagen har samlat in största delen av de data som använts.
Resultaten har jag jämfört med olika avskjutningsmodeller och med markräkningen, som fungerar som grund när man fastställer älgstammens täthet. Med hjälp av teoretiska fakta, tidigare undersökningar och på basen av mina resultat från undersökningen har jag byggt upp en ändamålsenlig avskjutningsplan som förhoppningsvis kommer att resultera i en livskraftig älgstam i framtiden.
The moose population at the Cape of Hanko has decreased significantly over the last years. This does not only mean that the moose population has decreased, but also that qualities of a moose like reproduction, antler size and total weight, which are controlled by genes and habitats, have significantly degenerated. This thesis is about how the moose hunting has been performed during the years 1990 to 2010 and how the inventories have been done during the same period.
With the investigation I wanted to find out how the hunting has affected the development of the moose population and the reliability of the inventory. Other factors that are likely to have affected the moose population are also investigated. To help me to interpret my results I have used previous studies on how the moose population should be managed. The Game Management District and the local hunting clubs have collected most of the data I have used.
I have compared various hunting methods with the inventory which serve as a basis in determining moose diffusion. With the help of theoretical facts, previous studies and on the basis of my results from the studies I have built up an efficient hunting plan which hopefully will result in a viable moose population in the future.
Kokoelmat