Ledarstilar inom turismföretag
Bäckman, Nora Henrika (2011)
---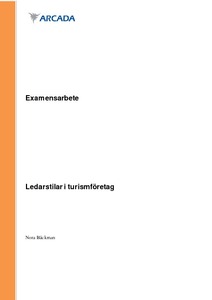 Arcada - Nylands svenska yrkeshögskola
2011
All rights reserved
Julkaisun pysyvä osoite on
http://urn.fi/URN:NBN:fi:amk-2011061412000
Tiivistelmä
Problemställningen i detta examensarbete ligger i hur en chef i ett turismföretag kan påverka personalen positivt, och skapa motivation på arbetsplatsen, hurudana ledarstilar används, och vilka egenskaper en god ledare har inom turismbranschen. Syftet var att utreda vilka ledarstilar som används i turism- företag, hurdan stil av ledarskap chefer själv anser att är bra, och vilken ledarstil dessa chefer anser att bidrar till arbetsmotivat-ion för medarbetare. Skribenten har gjort en jämförelse mellan ett antal företag inom turism- branschen för att komma fram till hurdana ledarstilar som används, och hur cheferna anser att dessa är i koppling till medarbetares arbetsmotivation. Den teoretiska referensramen har indelats i teorier om ledarskap, följt av motivationsteorier.I teorier om ledarskap nämns beteendemodeller,samt situationsorienteringar. Motivationsteorier består av tvåfaktorteorin samt reinforcement teorin. Skribenten har använt sig av den kvalitativa metoden i form av djupintervjuer. Resultaten av ledarstil som respondenterna yttrade sig använda kunde skribenten i stora drag sammanfatta som rätt så demokratisk. Ett gott ledarskap menade respondenterna innebära att lyssna på sina medarbetare, muntlig respons,samt att i det stora hela vara demokratisk.Situationens påverkan på ledastilen kunde anses som stor, eftersom alla utom en respondent ansåg sig bli starkt påverkade av den.I resultaten av ledarstilens koppling till medarbetares arbetsmotivation framhävdes speciellt chefens förmåga samt ansvar av öppen kommunikation, samt förmåga att uttrycka för sina medarbetare om mål samt krav.
The subject of this degree thesis is leadership styles in tourism companies. The aim of the study was to make a research of leadership styles in tourism companies. The author has made a study about what kind of leadership styles supervisors in tourism companies use, what style of leadership is considered good, and brings most motivation for employees. The questions of this research are what styles of leadership that the supervisors in tourism companies use, what leadership styles are considered good, and what styles of leadership brings most motivation for employees, and other motivational factors at work. The theo-ries in this thesis are divided in leadership and motivation theories. The author uses be-havioral models of leadership styles and theories of what impact does different situations have on the style of leadership. As an example of theories of motivational factors at work, the author uses the two-factor theory and the reinforcement theory. Interviews are used a method in this thesis. The results are also divided in two parts, leadership styles and mo-tivation at work.
The author draws the conclusion that the style of leadership which is used in these cases can in the big picture be called as democratic. The author can also draw the conclusion that changing situations do have an impact on the leadership style being used. Regarding motivational factors of employees, the results show a clear fact that according to the re-spondents, the supervisor should use a style that clearly communicates the demands of daily work. Another important result is the fact that the respondents are of clear opinion that a supervisor is able to enhance the level of motivation for employees through giving them response.
Kokoelmat