Pre-feasibility study on the investment in a new SPA & wellness facility : Case Study: based on a hotel-restaurant in Germany
Jahn, Moritz (2011)
---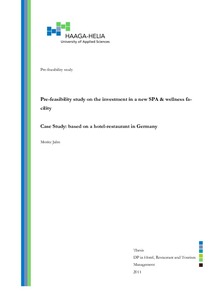 HAAGA-HELIA ammattikorkeakoulu
2011
All rights reserved
Julkaisun pysyvä osoite on
http://urn.fi/URN:NBN:fi:amk-201104295317
Tiivistelmä
The object of investigation has at the present a wellness facility which is however out-dated and does not longer support the general appearance. Therefore, a new investment has to be done which will be assessed with regard to its conceptual, economic and financial viability. In particular, the economic and financial viability of the new SPA & wellness facility by itself had to be assessed, as this is the main criteria for the principal. The extent of the pre-feasibility study is a limited version compared to a regular feasibility study where the content is abridged and obtained market information might be sufficient for rejecting the venture but insufficient for decision-making. The pre-feasibility study was carried out between July 2010 and January 2011. The value date for all calculation within the pre-feasibility study is January 2011.
In order to carry out the project, first an initial business contact was made where information on all operated departments at the present was given and the according information on the new SPA & wellness facility was provided.
In a second step, a competitor and market research has been carried out. The market research was carried out by the use of a geomarketing software. The competitor analysis has been carried out by an internet and literature research.
In a third step, all past procedures and equivalent findings have been used in order to carry out the economic and financial calculations for the new SPA & wellness facility including calculations such as the operating statement of profit and loss, taxes depreciable, debt service, taxes and loss-carry-forward, cash flow in equity after debt services and taxes, residual value / value of continuation at end of year 15, after-tax / before-tax equity internal rate of return, equity investment pay-back period in nominal value of money, total investment pay-back period in nominal value of money, present value and net present value of equity, influences on other departments' net income before and after fixed amount allocation, investment and year-start balance and investment decision comparisons.
In a last step, the conceptual, economic and financial viability has been assessed by using a grading from "1" (the worst) to "5" (the best) by evaluating the internal leitmotif of the new venture and the comparison with benchmark figures. If judging the outcomes of the pre-feasibility study by the main criteria of the principal, the venture should be rejected.
Die Fallstudie hat im Moment einen Wellness-Bereich, welcher jedoch nicht dem Image des Gesamtbetriebes gerecht wird. Daher soll in einen neuen SPA- & Wellness-Bereich investiert werden, was auf die konzeptionelle, wirtschaftliche und finanzielle Durchführbarkeit geprüft werden muss. Insbesondere die wirtschaftliche und finanzielle Durchführbarkeit des SPA- & Wellness-Bereichs als eigenständiger Profit-Center ist von großer Bedeutung für den Auftrag-geber. Das Ausmaß der vorläufigen Machbarkeitsstudie ist limitiert im Vergleich zu einer vollwertigen Machbarkeitsstudie, insofern dass Marktuntersuchungen nicht in einer positiven Entscheidung zur Investition bei positiven Ergebnissen der vorläufigen Machbarkeitsstudie genutzt werden sollten. Das Ausmaß einer vorläufigen Machbarkeitsstudie reicht jedoch aus, um bei negativen Ergebnissen sich von einer entsprechenden Investition zu distanzieren. Die vorläufige Machbarkeitsstudie wurde im Zeitraum von Juli 2010 bis Januar 2011 durchgeführt. Der Tag der Wertstellung ist der Januar 2011.
Um das Projekt durchzuführen, wurde zu Beginn ein Meeting abgehalten in welchem wichtige Informationen zu den bereits vorhandenen Profit-Centern als auch zu dem neuen SPA- & Wellness-Bereich übergeben wurden.
In einem zweiten Schritt wurde eine Marktuntersuchung mit Bezug zur Nachfrage und zum Wettbewerb durchgeführt. Die Nachfrageuntersuchung wurde mit Hilfe einer Geomarketing Software durchgeführt. Die Wettbewerbsanalyse basiert auf einer Bücher- und Internetrecherche.
In einem dritten Schritt wurden die Ergebnisse der zwei vorherigen Schritte genutzt, um die wirtschaftliche und finanziellen Berechnungen zu dem neuen SPA- & Wellness-Bereich durchzuführen. Die Berechnungen entsprechen unter anderem der Gewinn- und Verlustrech-nung, Abschreibungen, Kapitaldienst, Steuern und Verlustvortrag, Liquidität nach Kapital-dienst und Steuern, Veräußerungswert nach dem 15. Betriebsjahr, interner Zinsfuß nach und vor Steuern und Kapitaldienst, Eigenkapital- und Fremdkapital-Amortisierungsrechnung, Barwert und Kapitalwertrechnungen, Synergien auf andere Abteilungen und Investitionen und Vermögensübersicht im ersten Jahr.
In einem finalen Schritt wurde die konzeptionelle, wirtschaftliche und finanzielle Durchführ-barkeit bewertet, indem eine Bewertung der verschiedenen Bereiche auf einer Skala von "1" (am schlechtesten) bis "5" (am besten) bewertet wurden. Die Bewertung bezieht sich zum einen auf das interne Leitmotiv, als auch auf den Vergleich des neuen Projektes mit Bench-markzahlen. Trifft man ein Urteil, basierend auf dem Hauptkriterium der wirtschaftlichen und finanziellen Durchführbarkeit, so sollte das Projekt verworfen werden.
Kokoelmat