Förstföderskors upplevelse av amning : en kvalitativ studie
Mattjus, Pernilla; Svenfors, Julia (2020)
---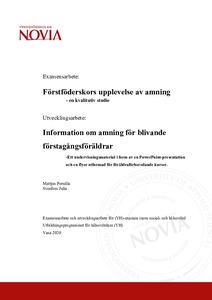 Mattjus, Pernilla
Svenfors, Julia
2020
All rights reserved. This publication is copyrighted. You may download, display and print it for Your own personal use. Commercial use is prohibited.
Julkaisun pysyvä osoite on
http://urn.fi/URN:NBN:fi:amk-202005077666
Tiivistelmä
Syftet med examensarbetet är att beskriva förstföderskors upplevelser av amning. Frågeställningen som användes är "hur upplever förstföderskor amning?". För att vi i vårt arbete som hälsovårdare ska kunna ge det stöd och den hjälp mammorna behöver i anslutning till amningen behöver vi förstå på vilket sätt de upplever amningen.
För utförandet av studien valdes en kvalitativ metod och materialet samlades in genom intervjuer med fem mammor som fött sitt första barn inom de senaste två åren. Som teoretiska referensramar användes Erikssons (2000) teori om att "ansa, leka, lära" och Mercers teori "becoming a mother" (2010). Intervjuerna har transkriberats och bearbetats genom en induktiv innehållsanalys som resulterade i ett tema och fem kategorier samt tillhörande subkategorier. Därefter har resultatet speglats mot tidigare forskning och de teoretiska referensramarna.
Studien resulterade i dessa tre huvudfynd: förstföderskans egen betydelse för en lyckad amning, partnerns betydelse för amningsupplevelsen och att amning är ett mångfacetterat fenomen. Dessutom lyfts även amningssmärta upp i resultatet. I resultatet framkommer också att amningsupplevelsen är väldigt individuell och unik för varje mamma, amningen är heller inget konstant tillstånd utan en process i ständig utveckling.
Utvecklingsarbete:
Detta utvecklingsarbete är en fortsättning på examensarbetet "Förstföderskors upplevelse av amning"-en kvantitativ studie (Mattjus & Svenfors 2019). Syftet med utvecklingsarbetet är att förse förstföderskor och deras partner med kunskap om amning som förbereder dem på en lyckad amningsupplevelse. För att uppnå detta syfte har ett undervisningsmaterial om amning utvecklats, undervisningsmaterialet användes på en föräldraförberedande kurs i december 2019 och består av en PowerPoint-presentation och en flyer. På kurstillfället deltog sex par som alla skulle få sitt första barn inom de kommande månaderna. Vid kurstillfället var även rådgivningens personal och handledande lärare närvarande.
PowerPoint-presentationen som tar upp amning på ett övergripande sätt skapades i Microsoft Office programmet PowerPoint. Presentationen riktar sig till båda föräldrarna och strävar till att ge dem den grundläggande kunskapen de behöver samt att de efter avslutad föreläsning också ska veta varifrån de kan få mera information och hjälp. Flyern som riktas främst till förstföderskans partner fokuserar på hur den icke-ammande föräldern kan stöda den ammande mamman. Flyern är skapad och beställd via hemsidan Vistaprint.fi.
The aim of the study was to find out how first-time mothers experience breastfeeding. The issue was "how do first-time mothers experience breastfeeding?". To be able to give mothers the support and help they need when it comes to breastfeeding it is important for us as health professionals to understand their experience of breastfeeding.
To implement this study a qualitative research method was chosen. The data were collected through interviews with five mothers who had given birth within the past two years. As theoretical basis Eriksson's (2000) "ansa, leka, lära" and Mercer's "becoming a mother" (2010) were used. The interviews have been transcribed and analyzed using an inductive content analysis. The analysis resulted in one theme and five categories and several subcategories. The result was later reflected against previous research and the theoretical framework.
The study resulted in the following three main finding: the mothers' own significance for successful breastfeeding, the partner's significance for the experience of breastfeeding and that breastfeeding is a multifaceted phenomenon. Beyond these main findings breastfeeding related pain was also pointed out in the result. In the result it also appears that the breastfeeding experience is very individual and unique for every mother and that breastfeeding is not a constant state, but rather a process in constant change.
Development work:
This is a development work of the thesis "First-time mothers' experiences of breastfeeding" -a quantitative study (Mattjus & Svenfors 2019). The aim with this development work is to provide first-time mothers and their partners with knowledge about breastfeeding that will prepare them for a successful breastfeeding experience. To achieve the aim an educational material about breastfeeding were made, the material was used at a preparation course for first-time parents in December 2019 and consist of a PowerPoint-presentation and a flyer. During the course six couples participated that were due to have their first child in the coming months. The supervising teacher and staff from the maternity care unit also were present during the course.
The PowerPoint-presentation which focuses on breastfeeding in an overall manner was created with the Microsoft Office program PowerPoint. The presentation is aimed to both parents and aspires to give them the basic knowledge they need and also inform them about wherefrom they can get more information and help. The flyer is mostly aimed towards the non-breastfeeding parent and how they can support the breastfeeding mother. The flyer was created and ordered from Vistaprint.fi.
Kokoelmat