Vid livets slut behövs rätt vård! : Palliativ vård för personer med hjärtsjukdom
Mylläri, Britt-Marie (2020)
---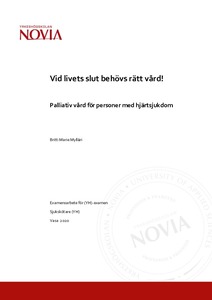 2020
All rights reserved. This publication is copyrighted. You may download, display and print it for Your own personal use. Commercial use is prohibited.
Julkaisun pysyvä osoite on
https://urn.fi/URN:NBN:fi:amk-202005077798
Tiivistelmä
Bakgrund: Optimal vård vid livets slut för personer med hjärtsjukdom tas upp i denna studie. I bakgrunden presenteras sjukdomen hjärtinfarkt, hjärtsvikt, palliativ vård och vård vid livets slut med hjärtsjukdom. Syftet med examensarbetet är att genom litteraturstudie beskriva en optimal vård vid livets slut till de som drabbas av hjärtsjukdom. I examensarbetet tas upp hinder och utmaningar som förekommer i vården i livets slut för äldre personer med hjärtsjukdom.
Metod: Arbetet är en litteraturstudie och som dataanalysmetod har kvalitativ innehållsanalys använts. Totalt 12 vetenskapliga artiklar har analyserats. Studien innefattar endast randomiserat kontrollerade artiklar. Som teoretisk utgångspunkt fungerar Merry Elisabeth Scheels teori för omvårdnad. Den betraktas som praktisk kunskap där interaktion och kommunikation är det centrala.
Resultat; I resultatet tas upp strukturella förutsättningar där sjukskötarens profession är i behov av mer utbildning i palliativ vård. Genom att öka samarbetet inom hälso- och sjukvården och med ett gott ledarskap, så kan man erbjuda en bättre personcentrerad vård. Vårdönskemål behöver diskuteras för att kunna ge en god livskvalitet och trygghet i slutet av livet.
Konklusion; Denna studie är bara en riktgivande studie, där man har sett brister i vårdrelationen. Ytterligare forskning behöver göras i ämnet; Vid livets slut behövs rätt vård för personer med hjärtsjukdom.
Background: Optimal care for people with heart disease at the end of life is included in this study. In the background the disease myocardial infarction, heart failure, palliative care and care at the end of life with heart disease are presented. According to the aim of this thesis, is to highlight previous research on what characterizes a good quality of life for elderly people with heart disease. In addition, obstacles and challenges that exist in the care at the end of life for people with heart disease are addressed.
Method: My thesis is a literature study and as a data analysis method, qualitative content analysis has been used. A total of 12 scientific articles have been analyzed. The study includes only randomized controlled articles. As a theoretical starting point, Merry Elisabeth Scheel's theory of nursing thesis it is seen upon as practical knowledge where interaction and communication are central.
Results: The result addresses structural conditions where the nurse's profession is in need of more education in palliative care. By increasing cooperation in health care and with good leadership, one can offer better person-centered care. Care requirements about the end of life need to be discussed in order to provide a good quality of life and safety.
Conclusion: This study is just an indicative study where shortcomings have been seen in the care relationship. Further research needs to be done about the subject; At the end of life, proper care is needed for people with heart disease.
Kokoelmat