Fraktskador inom sjöfart : Case Transfennica
Salojärvi, Jiri (2020)
---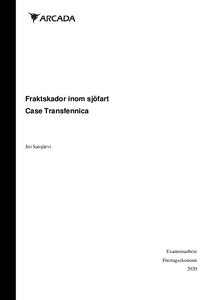 2020
All rights reserved. This publication is copyrighted. You may download, display and print it for Your own personal use. Commercial use is prohibited.
Julkaisun pysyvä osoite on
http://urn.fi/URN:NBN:fi:amk-202005149001
Tiivistelmä
Syftet med detta arbete är att kartlägga fraktskador på containrar som uppstår i sjöfart. Fallföretaget för arbetet är Transfennica Ltd, där skribenten är också anställd. Trans-fennica Ltd, ägd av Spliethoff Group, är ett rederi som driver en roro-baserad flotta på Östersjöregionen. Transfennica transporterar gods mellan sju länder och tio hamnar. Detta arbete tar endast upp de vanligaste skadetyperna inom Transfennicas verksamhet. Arbetet lyfter inte fram skadornas finansiella konsekvenser. Arbetet fokuserar på con-tainerskador som fraktenheter, inte på det lastade godset. Fraktskador uppstår ständigt inom logistik, och sjöfrakt är inget undantag. Eftersom fraktskador alltid resulterar till kostnader, och därmed har en negativ påverkan på lönsamheten, är det väsentligt för alla aktörer i leveranskedjan att försöka minska på mängden fraktskador. Teoridelen i detta arbete består av två delkapitel: Sjöfartens aktörer inom Östersjötrafiken och containrar inom sjöfarten. Undersökningen utgörs av fem kvalitativa intervjuer med Transfennicas samt Oy Hangö Stevedoring Ab:s personal. Undersökningens resultat ger en helhetsbild på fraktskador som sker inom Transfennicas rutter och hamnar samt idéer till hur man kan undvika dem. Resultaten lyfter också fram rederiets och hamnoperatörens liknande synpunkter på temat.
The purpose of this thesis is to map out shipping damages to containers in sea freight. This thesis is a case-study of Transfennica Ltd, wherein the author is employed. Transfennica Ltd, owned by Spliethoff Group, is a shipping company which operates a roro-based fleet on the Baltic Sea. Transfennica transports goods between seven countries and ten ports. This thesis will only cover the most common damage types for Transfennica. This thesis will not cover the financial consequences of shipping damages. This thesis focuses on damages on containers as freight units, not on the loaded goods inside. Shipping damages occur constantly in logistics, and sea freight is not an exception. Since shipping damages always results in costs, and therefore has a negative impact on profitability, it is essential for each party to try to avoid shipping damages. The theoretical part of this thesis consists of two subchapters: Parties in Baltic Sea Shipping and Containers in Shipping. The study comprises five qualitative interviews with Transfennica's and Oy Hangö Stevedoring Ab's personnel. The results of the study give a general picture on shipping damages which are occurring in Transfennica's routes and ports. In addition, the results will provide ideas on how to avoid shipping damages. The results also show the similar aspects of the carrier and the port operator on the subject.
Kokoelmat